Resort Guest Services Jobs
The resort guest service personnel, in other words, the bell staff, has the responsibility of looking after the guests. These employees are the representation of the resort or hotel, as they are in the public view at all times. The bell staff members are there to help the guests with whatever they need on the resort grounds, which means that this could be a very strenuous position.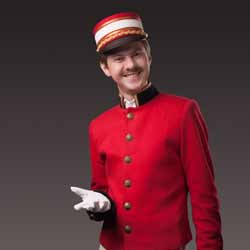 There are four different positions within the guest services field, namely: doorman, concierge, bellhop and bell captain.
The position of the bell staff is traditionally filled by a male. This is mostly due to the fact that there is a lot of heavy lifting involved when carrying guests' luggage to and from rooms. Bell staff members usually dressed in uniformed attire and are required to be friendly individuals. As a bell boy / girl, you are the one who interacts with the guests almost 70% of the time. You are called in after the guests check in and are required to explain the working of the room to the guest before they get settled in.
The guest service staff need to be outgoing individuals and may need to speak more than one language, especially if the position is in a popular tourist destination.
Job Responsibilities
As a bell boy / girl you are the representation of the establishment you work for. This is why you will need to be well presented and uniform to your colleges. If your duty as a bell person is as the doorman you will be the first point of contact for the guests. If you work in a smaller establishment you will need to perform all of the duties of the bellhop as well. That is to meet the guest at the door, carry the luggage to their room and explain the inner workings and the features of the room they will be staying in.
This means that you will have to be clued up on how to work the hot tub or Jacuzzi, if some of the rooms are equipped with these. Your job will also be to let the guests know where certain things can be found, like ice, clean towels, and the mini bar for instance, and to also tell them what time breakfast lunch and dinner will be if there are set times for these things.
Did You Know? Most door and bell hop personnel are male and there is only a handful of female service staff around the world.
In larger resorts you will be given just one of the tasks to carry out, whether it be to open the door, in which case you will be the doorman, or carry the luggage, which will make you the bellhop, bellboy or luggage porter. A lot of the time guests tend to stick to using one bellhop throughout their stay. So if there is ever anything they need throughout their stay at the resort they do tend to look for that one person for information. This means that you have to be readily available at all times you are on duty.
Job Requirements
There are no set or official tertiary degrees that one needs to acquire in order to land any of the aforementioned positions, but there are a number of things that employers look for in their potential staff members. One has to remember that this group of employees is in direct contact with the guests, which means that there are certain skills that they will require to pull off the job flawlessly.
As a doorman you must be a friendly person, well spoken, as well as helpful and outgoing.
You will not only be responsible for opening and closing the door for the guests you will also be the one to set the mood as they enter the resort. The doorman will also be required to hail taxis, offer directions, and give advice to guests on the best eateries and nightclubs in the area if asked.
The concierge is almost always the second point of contact for the guests. This person will be standing behind the desk waiting for the guests to check in. This person is in charge of checking guests in, taking messages, sorting out dinner reservations checking guests out and answering any questions that the guests may have.
The bellhop comes into play after the guests have checked in. This person will be in charge of getting the bags up to the room, as well as showing the guests where their rooms are. The bellhop is also there to explain how things in the room work, like Jacuzzi, bar fridge, and where the lights are. The bell hop is the go-to- guy as it were.
The bell captain has the same duties as the bell hop, the only difference is that the bell captain's duties extend to making up rosters for the bell staff, designating duties and making sure that everything runs smoothly in a larger establishment.
Other duties of the guest service staff include:
Helping travelers with special needs and physically challenged individuals.
Taking bags, packages and trunks to and from the guests' rooms, vehicles, loading areas, transportation terminals.
Ensuring that claim checks are completed for luggage, and attaching them to the luggage.
Give direction to guests, offer travel information, and advise on points of interest in the area.
Arrange transportation for guests or transport them personally to and from their destination.
Making sure that the public areas and rooms are clean and arranging housekeeping for guest rooms when needed.
Greet guests as they come and go, and making sure that they are settling in.
Deliver telephone ore written messages to guests and take room service orders, and run errands for guests.
Explain how the room works and the features such as locks, televisions and ventilation systems.
Be part of the security team at hotels, transportation terminals or similar establishments.
Drop off, return and pick up valet and laundry.
Page guests in dining rooms, hotel lobbies, or other areas.
Making sure that guests rooms are properly stocks in all areas and ensuring guest comfort.
Helping guest with mailing, and shipping of parcels and baggage through weighing and billing.
Recording all services rendered and creating charge slip for guest, as well as keeping slips in record.
Setting up display tables, conference rooms, racks, shelves or any other display area for merchandise sales.
Handling the filling in and filing of baggage insurance forms.
Training & Degrees
There is no official degree or training needed to become part of the resort guest service staff. However, there are a number of things that you will be responsible for, and your responsibilities may differ from employer to employer. Let's take a look at an example job listing below.
Gallery Host (Guest Service Agent)
Description:
Hyatt Hotels have always gone the extra mile for the guests. We offer great customer experience through dramatic design, attentive service and innovative cuisine. Hyatt sees a stay at a hotel as an opportunity to inspire.  Hyatt Place, where the style boasts relaxation, and the standards are high, is designed to offer any guest an experience that they will never forget. You are the missing piece to bring it all together.
A Gallery Host is committed to a high quality service. He is a team player, and loves to help others in whatever way he can. He strives for excellence. The Gallery host is the one to sets the mood for our hotel guests. The host offers an experience that feels like home, but exceeding the lap of luxury with warm welcomes, and exceptional service while also making sure that the environment is user friendly, clean and inviting. As our gallery host you will be responsible for the gallery host stand, the guest kitchen, the Bakery Café, the TV den, the computer room, meeting/conference rooms and the checking in and out of our guests.
Previous guest service experience and the ability to communicate easily is essential.
We believe that our guest return to Hyatt because of our exceptional service and our friendly associates, which is why we demand the best out of our staff, while still offering great rewards. Whether you are looking for a career opportunity, a supportive working environment, job enrichment, or a great change, we are looking for you.
Qualifications
Customer service experience is a must, preferably in a resort or related field.
Working shifts essential, weekends and holidays.
Strong English skills, written and spoken.
Work in a fast paced environment, and learn quickly need to be strong suit.
The ability to multi-task.
Must be aged 18 or older.
Must have a great need to satisfy others.
No tertiary degree, only high school or equivalent required.
Able-bodied for heavy lifting, pulling, pushing, and more.
Computer skills are an essential part of the job Excel, Word and Windows.
Salary & Benefits
Pay for guest service staff differs from employer to employer. You will also not get the same amount of money working for a smaller resort, as you would working for a bigger one, so you will have to keep your eyes open for the great job listings. There is also no official benefit structure involved in this type of position, although you do get tips on a daily basis. The pay scale for all positions in this category ranges from $9 – $17 per hour.
With various different positions in the guest service field, it means that you have the opportunity to be placed in the position of your choosing.
Quick Summary:
Meet new and interesting people on a daily basis
Help people who require it and be seen as an authority of information
You need to have strength and be a people's person