Resort Maintenance Staff Jobs
The maintenance staff at resorts and hotels provides an important task for the functioning of the establishment. The repair, fix, clean, maintain, and check that all the resort facilities are working correctly.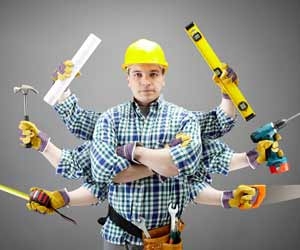 Each resort has a variety of jobs that need to be done on a daily or regular basis in order for the resort to be in good working order and look in the best condition possible for guests. Maintenance falls under many different categories and while some of the housekeeping tasks include the cleaning of the front desk and lobby area, sometimes this duty falls onto the maintenance staff as well. Maintenance generally means the repairing of lights and light fittings, ensuring that stairs remain clean and free from debris, that lawns, garden beds and entrance ways are neat and tidy, that doors, door handles, windows, air conditioners, heaters, kitchen equipment, dining room furniture and equipment, lobby furniture and much more remain in excellent working condition.
With the size of many resorts and hotels, these tasks are given to a team of maintenance workers, who will go around the resort each day to check vital equipment and furniture and make any necessary repairs. They will also attend to the guests specifically if a breakage or fault is reported. This will entail visiting the guests' rooms to make the necessary repairs, and although you are not generally required to be a people person in this job, there are times where you might have to deal directly with the guests, so good customer service skills are required.
Quick Fact: According to the Bureau of Labor Statistics, work for maintenance staff is expected to increase by 12% into 2020.
Job Responsibilities
You will be responsible for maintaining areas of the resort to which you are assigned. Sometimes your tasks will involve a certain area or be limited to a specific task, but you will more often than not be required to offer your services in a variety of different places around the resort and as called upon. You will be responsible for the equipment you use and must ensure that you perform your duties in a safe and responsible manner to ensure the safety of yourself, your co workers and the guests.
Most of the time you will be working with nails, glue, hammers, and other potentially dangerous equipment so you must ensure that you understand safety procedures and be very aware of others around you when you are performing your maintenance duties.
You might find that your shift involves working at the pool and performing maintenance tasks around the pool area, to the pool equipment and outside. Another shift might see you working in the resort's dining room and restaurant, repairing the hot plate, fixing broken chair cushions, and repairing faulty lights. Yet, another shift could send you to the golf club house where you will maintain the golf carts, repair any damaged clubs and bags, and provide any repairs needed to the club house. There is always something different to do each time you work, so you will have to be ready for anything.
Job Requirements
Aside from some experience in maintenance and repair work, most resorts look to hire someone with a certification in electrical repairs, HVAC maintenance or a plumbing certificate. To work on any of the lights or electrical circuits in a resort, you will need to have an electrical certificate and provide qualifications in this regard. If you do not have this, you can still apply for a maintenance job where you will work under a supervisor or where you will be assigned specific tasks according to your level of expertise and qualifications.  
You will need to be physically fit and able to work in this field with lots of heavy lifting, climbing, and carrying needed to perform your duties adequately. You must be able to follow directions and instructions, and aside from being analytical, also offer advice, be organized and able to diagnose problems easily.
Training & Degrees
The training you require as part of the maintenance staff extends to electrician, plumbing, and HVAC technician qualifications which can be obtained from a vocational school. Other than this, there are no formal degrees or training that you need and you can learn everything on the job from your supervisor through an internship or apprenticeship. You will not need to know any additional languages and you don't even need to speak English as a first language, as maintenance is not considered to be a customer service position.
Did You Know? Many resorts require employees, including maintenance staff, to have a high school diploma.
Salary & Benefits
Benefits are those that are offered to all hotel employees and aside from this you can expect to earn an hourly wage of around $10 – $30 per hour, averaging $16. The more experience you have and the more technical qualifications you have, the better. This will allow you to be employed as a manager, lead maintenance staff member or supervisor earning more money. Full time positions like this will see you earning roughly $24,000 to $38,000 per year.
Quick Summary:
Seasonal and full time work exists for maintenance staff.
Earn approximately $16 per hour.
Entry level work can be found with no qualifications necessary.