Getting Hired as a Tennis Instructor
If you are looking for a job as a tennis instructor, you will find that word of mouth is one of the best ways to get hired. Recommendations from previous clients and fellow instructors or past players will give you the best opportunities at getting a job at a resort or hotel. Employers like to know who you have worked with and this can be as important as the qualifications and skills you have.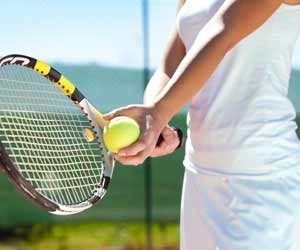 Prerequisites for Tennis Instructors
Tennis instructors are required to have certain skills, and many resorts will require instructors to have a 4.5 rating or higher. You will also need to provide certain documentation when applying for a job regardless of word of mouth. You will need to supply your resume, your certification details, any previous work experience, and give a list of any references you have.
Aside from this, you will need to have a face to face meeting with the employers where you will be asked a few questions among other things. The resort employers will want to find out how good you are with people and learn more about you as a person, as the hospitality industry is all about people.
Another thing that employers like to see is who else you have worked with. A good idea would be to show that you have trained under a senior, more experienced instructor and worked with some other excellent instructors in the business.
One former tennis instructor says, "You need plenty of experience to progress in this industry. If you said that you studied under someone tennis for 2 years, now that looks pretty good and shows that you definitely have the experience and have learnt how to be a top coach from the best in the industry."
Quick Fact: According to tennis insiders, the best way of getting your first tennis instructor job at a resort is to approach the current tennis pro and try to get a recommendation to work under them.
Applying for Tennis Instructor Jobs
When you go about applying for a job, always look professional and have an enthusiastic, yet professional attitude.
Showing a bit of initiative and commitment is also a good way of breaking into the industry. This can include offering to do some extra work like restring racquets, return the head instructor's phone calls, clean and sweep the courts and more can go a long way to proving what an asset you can be to the resort's tennis department.
According to a former tennis instructor, "If you are an organized person and completely professional – not lazy and willing to work hard, it will make quite a big difference when you are looking for work."
Quick Summary:
Your application should include personal recommendations from other tennis pros and instructors you have worked with.
To get hired most resorts will require you to have a 4.5 rating or higher.
Word of mouth is one of the best ways to get hired.