Training to Become a Tennis Instructor
Once you have been playing tennis for a number of years and are perhaps of the correct age, you might decide that the best way to make money from the sport that you love to play is to become an instructor or coach.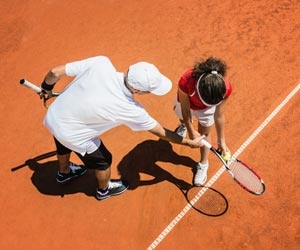 If going into the professional arena is just not meant to be, then why not still enjoy making money from it in a different way.
Although to a requirement, attaining your certification as an instructor will show that you are dedicated and professional when it comes to your chosen career. For resorts and hotels it has the following benefits: They get certified instruction that has been tested, a professional and self motivated individual, someone who is a proven educator, exciting programs, and guests who leave completely satisfied.
Where to Train
Tennis training is offered through the U.S. National Tennis Academy where you can get your official Certified Professional Tennis Instructors recognition through distance learning and gives you a more professional look when you are trying to get a job. It is more likely that resorts and hotels will hire you if you have a certification from the USNTA. There are 20 written test to complete.
The U.S. Tennis Association (USTA) also offers training workshops for those wanting to become professional coaches. Although slightly different from being an instructor, coaches can also be hired at resorts. You can complete the QuickStart Tennis workshop which is aimed at coaches who want to teach kids aged 6 to 10 years old. This is a 3 hour 30 minute training session.
You can also take the Recreational Coach Workshop which is aimed at coaching the beginner or intermediate level tennis player and is ideal for those who want to get a job in a resort setting with the focus being on group and team training.
The USPTA or U.S. Professional Tennis Association allows you to take a Recreational Coach workshop, but only if you have already taken the USTA course.
The U.S. Professional Tennis Registry (USPTR) is another organization that offers certification and training for tennis instructors and is globally recognized. There are different levels you can get including Junior Development, the Adult Development certification or Performance. To become PTR certified you must pass the five PTR certification tests.
Did You Know? You can intern as a tennis instructor to get the necessary on the job training and experience from a senior certified tennis instructor.
Length of Training
Being certified through the USNTA takes as long as necessary depending on how long it takes you to complete the 20 tests. It usually takes 2 to 3 months for most people to become certified.
The USTA courses are fairly short with the QuickStart workshop taking 3 hours 30 minutes to complete and the Recreational Coaches workshop lasting 6 hours in which you will also get a guide called Learn to Rally and Play as well as a CD with the Top Ten Games every coach must know, and the Coaches Manual.
Training Requirements
In order to apply for any of these tennis instructor training courses, you will have to know how to play tennis yourself. Ideally you are a very good league player or semi-professional player.
To become certified through the USNTA there is a fee structure:
$50 – Application Fee (non-refundable)
$87 – Annual Dues (non-refundable)
$360 – Certification Program
Total – $497
There is also a free aptitude test or entrance exam which you are required to take before applying for your certification to see if you have enough knowledge about the game to qualify. Once you have been accepted for the training you will need to pay the above fees in order to be graded for the 20 tests you are given. You need to pass these tests with 70% or more in order to receive your certification.
Once you become a member in any of these tennis organizations you, it will instantly boost your credibility and also give you resources for finding top resort jobs.
Quick Summary:
Training is not compulsory to become a tennis instructor, but it is recommended if you want to get a good job.
Training workshops take between 3 days and 2 months depending on the type of workshop.
The USNTA tennis instructor certification costs $497.