Overview of Resort Career Opportunities
Resorts, hotels and spas give you the opportunity to work in some of the best locations anywhere in the world.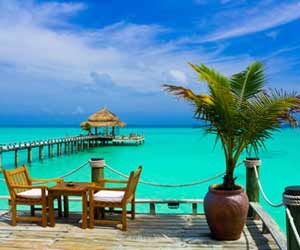 Resort employees gain the necessary skills to offset many other major careers and at the same time get a working experience second-to-none that will leave you feeling like you have been on vacation!
This is the ideal situation, although working at a beach resort or luxury hotel, is not all fun and games, as you will soon find out. It requires lots of dedication, teamwork, and excellent customer service skills, as well as professional qualifications in certain job types, but generally, this is not a determining factor in one applying for a resort job.
To find out if you belong in this type of industry, answer the following questions:
Do you love working with and interacting with people of all ages from all different cultures and backgrounds?
Do you function well as part of a team?
Do you enjoy variety in your working environment?
Do you enjoy travel?
If you answered yes to these, then you are definitely on the right track as far as a career option goes!
Resorts Employment Outlook
Resorts jobs and the industry as a whole are increasing, according to the U.S. Bureau of Labor Statistics, which forecasts that the industry will experience a 5% job growth up to the year 2018. In this, front desk clerks will increase the most and dishwashers the least.
Most resort employment is given to students and young entry-level workers on a seasonal basis, although there are permanent career options available. For the most part, however, students and part-time workers make up a large portion of the industry, and to this end, lower wages are deemed appropriate for this type of work. Additionally, it is shown by the BLS that approximately 20% of all resort staff are under the age of 25.
Part-Time vs. Full-Time Employment
The resort hotel industry employs part-time or seasonal and full-time staff. Entry-level job seekers will find it easy to land hospitality based resort jobs, as companies are always looking for new and enthusiastic job applicants. The summer season provides resorts and amusement parks with a plethora of workers who are looking to gain experience in this sector and who wish to earn some extra cash over the summer. Seasonal workers are not required to sign any contracts and the flexible structure of these jobs attracts many students, as well as stay-at-home parents and early retirees. Free admission (in the case of theme parks), discounts, and other benefits add to the appeal of resort jobs.
The full-time prospects come from a large pool of seasonal workers, usually those who return to the same company each summer. If you are looking to get a full-time resort career, it is a great idea to start off as an entry-level seasonal worker to get your foot in the door. Resorts prefer to hire those who have a working knowledge of the resort over an outsider, even if they do have some formal tertiary education. On the job training is usually all that is required for a large percentage of positions.
Wage Structure for Resort Jobs
Many resorts and hotel chains prefer to pay the Federal Minimum Wage for staff, although each state has their own regulations based on this rate. For example, the state of Ohio sets its minimum wage for non-tipped employees in 2016 to $8.30 per hour with tipped employees receiving $4.05 per hour as a basic. These are mainly in the service and administrative departments where post-secondary qualifications are not necessary, and where students and entry-level workers are generally hired. (Note: minimum wage changes every year or two)
Although the pay is not the best, there are some benefits worth taking advantage of such as medical, free uniforms and meals, and discounted rates on accommodation and amenities. These workers with the lowest wages (including food and beverage service workers, as well as hosts and hostesses, maids and housekeeping cleaners, concierges, and baggage porters and bellhops) are normally allowed to receive tips, and this gratuity structure is what attracts many people to these job types.
Did You Know? The resorts industry employs an average of 2 million people in the United States.
Working Conditions for Resort Jobs
Working in this industry requires scheduled shift work, as the majority of them are open 24 hours a day. This means that if you want to work in this industry you will need to be comfortable with working at any time of the night or day in shifts which can range from 8 to 12 hours, and sometimes longer during peak travel seasons. The night or weekend shift workers will usually receive additional benefits or overtime pay, with schedules are usually drawn up at the end of each week for the following week.
You will need to be willing to work on short notice, as you might be called in to cover a shift, or in the case of an emergency. You should also be adept at working in high-pressure situations, dealing with any stressful scenarios that arise.
Although your working hours can be lengthy, resort employees get to work in some of the best locations around the world. They get to experience various travel destinations first hand and live in a place where people holiday. Locations such as Hawaii are the first choice for most resort applicants, as the relaxing, vacation atmosphere is what attracts them to these resort jobs.
Types of Resort Employment
Now that you can see what the resort and hotel industry has to offer, you can decide what types of work you are best suited to. The main types of resort jobs include:
Service Jobs (making up two-thirds of the resort industry employment)
Management and Operations Jobs
Administrative Jobs
Here are some examples of various jobs that you can choose from:
There are literally hundreds of different jobs that a resort or hotel employer can offer, with the job types being dependant on the size and location of the establishment. To find out more about what jobs are offered, visit the Job Monkey Resorts Job Board to start your search.
Quick Fact: Approximately 8 percent of resort and hotel workers are union members or are covered by union contracts.
Additional Requirements
To work in the resorts industry, there are various other aspects involved in terms of being hired and strict guidelines you are expected to follow. These include:
Firstly, dress code is very important and cleanliness, neatness and the wearing of uniforms is a mandatory requirement for any resort position. Being conservative in appearance gives the hotel or resort a professional appearance that customers feel comfortable with. This means that no facial hair, excessive piercings that are visible, tattoos, or over the top make up will be allowed.
Aside from what you look like, having a friendly personality is important. Resorts lean towards hiring outgoing, pleasant employees who are skilled communicators, and who get along well with other people, whether they are fellow co-workers or hotel guests.
Does this sound like you? If so, keep reading for a more comprehensive look at obtaining employment at a beach resort.

Quick Summary of Resort Jobs:
Service occupations make up two-thirds of the resort industry employment – by far the largest occupational group.
Resorts employ many young, entry level workers in part-time and seasonal positions.
Job opportunities are good, due to low entry requirements for many jobs leading to high turnover and replacement needs.
The resort industry has a presence worldwide.