Resort PBX Operator Jobs
A PBX operator works for the hotel's internal communication system. PBX stands for private branch exchange and is there to ensure that all calls inside a resort or hotel reach the correct people.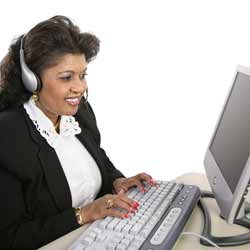 When someone calls into the resort, the PBX operator will take the call and forward it to the correct department. PBX operators must also create internal links between departments and ensure that all calls do not deteriorate. They are also responsible for closing the connection once a call has ended. In some resorts, the PBX operator will also need to take messages for relevant parties. They are sometimes responsible for wake up calls, taking messages and room service orders for guests and other clerical duties.
Today, the PBX operator is not always human and is performed largely by automated voices with voice recognition software that allows the caller to navigate to the correct department by speaking into the telephone or pressing certain buttons on their dial pad. This being said, a lot of resorts prefer to use human PBX operators to maintain a personal and friendly link between customers and the resort.
Quick Fact: PBX operators were first used in the 1920s when the telephone became a common business tool.
Job Responsibilities
As a PBX operator you will have to make sure that effortless communication between all parts of the hotel or resort remains intact. This includes incoming calls to the hotel from outside, internal calls between rooms or departments, and calls from the hotel outside to suppliers or customers. The PBX operator must be responsible, organized, and fast thinking, being able to put calls through to the correct location without hassle and ensuring that the links between these calls are not broken.
Aside from the calls, the PBX operator should also have a great telephone manner and be able to relay and take messages for hotel staff or customers efficiently. Often, the PBX operator will also be the front desk clerk and provides the initial professional image of the establishment to guests. You must be well dressed, neat, personable and able to perform multiple tasks under pressure.
Job Requirements
There are various requirements that you need to become a PBX operator, but usually a high school diploma is all that you need. Here is an example of a current PBX operator job opening at the MiraMont Resort and Spa:
Basic Function
The PBX Operator will be in charge of processing outgoing and incoming communications politely, while keeping a professional and optimistic image.
Essential Functions
Answer all incoming calls and process them.
Check the log books and bulletin board for all relevant information.
Forward faxes and messages to guests and applicable departments as needed.
Record and follow-up requests made by guests.
You are responsible for all radio communications between engineering, security, ERT and MOD in non-emergency and emergency situations.
Qualifications
High school graduate or equivalent.
Ability to communicate effectively.
Ability to resolve complaints and work well with guests in a constructive manner.
Typing skills of 30 words per minute.
Previous PBX experience required, preferably in a hotel setting.
Ability to use radio communications
Ability to remain calm in emergency situations.
One PBX operator said, "We are the first impression to people on what our resort is like. Our voice will tell it all, and the attitude we give is projected, so I always stay pumped up. The big E word – enthusiasm!"
Training & Degrees
The only training that a PBX operator needs is a voice or speech course, which helps those with an accent to achieve a correctly balanced, easy to listen to voice. Additional courses in computer software, spreadsheets, word processing, and other programs are an advantage. It is also helpful if you have previous experience or training in switchboards and communication operating systems.
Most systems at resorts are similar, so if you have worked at a hotel or resort in this position before, you will find it easy to work anywhere.
Did You Know? PBX operators get paid more to work the graveyard shifts between 11pm and 7am.
Salary & Benefits
The benefits that a PBX operator receives are similar to those of all employees at the resort, but those employed on a part time or seasonal basis might not receive accommodation, dental, medical and other insurance coverage.
Minimum wage is usually paid to part time PBX operators averaging at around $11 per hour, with full time employees earning on average $30,570 per month. Some resorts offer part of the gratuity fund as a monthly payment added to your wage.
Quick Summary:
Pay is minimum wage for PBX operators, but there are great benefits.
You usually need the minimum of a high school diploma for a PBX operator job.
Knowledge of computer programs, business maths, and good communication skills are essential