Featured Resort & Beach Resort Jobs
Looking at the various jobs in a resort or hotel, there are hundreds of exciting careers that you can choose from. Follows is an in depth look at some of the more exciting and challenging beach resort or hotel jobs that you can find with insightful career advice from some former and current resort employees.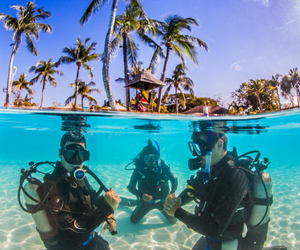 With these types of jobs you will require more than just on the job training. Most of these positions cannot be filled by high school graduates, but rather by those with a distinct qualification in these areas, who are not entry level employees.
Jobs can be seasonal however, but will provide employees with the opportunity of working in many different locations as they travel or providing them with an alternate career during the off season. These jobs are not for everyone, but if you are interested, you will be able to find out how you can get involved in any of them working at a resort.
While we refer to these jobs as "dream jobs," there is nothing to stop you from getting one of them one day, if you enjoy tennis or windsurfing. They require certain skills and training, but you can find out exactly how to get this training and become licensed if you want to make a career change in the future. Perhaps you are really good at cooking, or are an excellent tennis player in your league back home. If so, these are some of the careers that you can look forward to:
Gourmet Chef Jobs
Being a gourmet chef is not as simple as just putting on a hat and apron and cooking a wonderful meal. It requires deft skills and managerial talents, as well as the talent to be able to offer guests the most sumptuous meals of their lives all while running a smooth and successful kitchen. To be hired by a resort you will need to have undergone culinary training at a culinary school and have attained your chef classification at another establishment such as a restaurant before becoming a head chef at a hotel or resort. Read more about gourmet chef jobs.
Massage Therapist Jobs
Being a massage therapist at a resort gives you the chance to meet people from all over the world and provide them a relaxing and enjoyable massage in some of the most stunning locations around the world. You can ensure that people leave their vacations feeling stress free and completely relaxed, and with so many benefits, massage therapists flock to work at resorts all around the world. To become a massage therapist you will have to have professional training at a beauty school or similar institution and become a licensed therapist. Read more about massage therapist jobs.
SCUBA Instructor Jobs
If you are a licensed SCUBA diver, then you can easily become a SCUBA diving instructor and provide others with the joy of experiencing life under the ocean. Various certifications are required to teach SCUBA diving to others which are normally done through PADI diving courses. As a resort instructor you will be teaching others how to dive and use the equipment safely, so you must be extremely familiar with every aspect of SCUBA diving and have the qualifications to back you up. Read more about SCUBA instructor jobs.
Tennis Instructor Jobs
If you are a professional or amateur tennis player you can apply for a tennis instructor job at a resort or hotel. You will need to provide proof of how good you are, and generally professional coaching requires a certificate such the passing of the USPTA test, however, if you play as part of a league or for your college or state, this can be enough for some resorts to hire you to provide adult instruction and classes for children. Read more about tennis instructor jobs.
Windsurfing Instructor Jobs
Being a windsurfer, you will understand how to teach others to do it, and you can apply for resort jobs as a windsurfing instructor if you can teach others how to do it safely and have passed your windsurfing instructor certification. You will need to have a lot of experience as a windsurfer with training and licensing being offered by US Sailing. Read more about windsurfing instructor jobs.
To take a look at these careers in more detail keep reading. You will get tips and advice from professionals in the industry, as well as details about salaries, application tips, interview structures, and what it is like getting paid to do what you love!