Resort Job Descriptions
Resorts all around the world offer various types of jobs within their establishments, so let's take some time to look at the different types of positions that are available that you can apply for.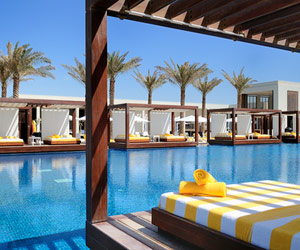 Each of these job types listed below offer various other jobs and through them you will learn about the responsibilities and requirements for each job, as well as the working conditions and salaries that you can expect to earn.
You will learn about the skills you need to be a great resort worker and what you might need to work on a bit more before you apply for any resort job. You will find that most of the resort employment does not require much in terms of skills, other than to be very friendly and personable. You will also find that if you have any previous hospitality experience it will be beneficial to you securing a higher paying job, but most resort jobs are offered with no previous experience and employers often provide on the job training anyway.
These jobs are by no means all the resort jobs available, but represent a few of the larger categories of resort jobs that can be found. They should also be used as a mere guide, as the salaries, duties, hours, and other details will vary from employer to employer, and depending on the location and size of the resort.
Accountant Resort Jobs
Working as an accountant at a resort will require a certain level of hospitality knowledge, but more importantly you will need to be qualified in an accountancy field as a CPA, or Certified Public Accountant. You will need to follow the hotel and resorts accounting principles as set out by the Bureau of Labor Statistics (BLS) and earn your CPA License before you can apply for any accounting jobs at a resort or hotel. Read more about Accountant Jobs.
Food Service Resort Jobs
The food service industry comprises of various jobs including that of chef, baker, waiters, bartenders, dishwashers, bussers, food and beverage managers and more. The food service staff are required to serve food and drinks to the guests whether it is at the resort restaurant, to their rooms when requested, at the resort bar, or poolside. The food service staff must make sure that the guests have a top class dining experience at all times, from the kitchen through to the dining room. Read more about Food Service Jobs.
Front Desk Resort Jobs
Front desk jobs are all positions related to the front desk where guests check in and out of the resort, including receptionists, registrars, and information clerks. These employees are the vital link between the guests and the rest of the hotel staff. Any requests or problems that guests have come through the front desk and the personnel there must distribute the information accordingly, whether it is to book a dining room reservation, order room service, report a room repair, or process payments through the accounts department. Read more about Front Desk Jobs.
Guest Service Resort Jobs
Guest services entail all jobs where guests require direct service for any of the resort facilities. These jobs include the doorman, bellhop, valet parking attendant, and concierge and are there to provide the resort and hotel guests with unique service giving them an excellent first impression of the resort and for assistance with anything during their stay. Read more about Guest Service Jobs.
Housekeeper Resort Jobs
The housekeeping department is made up of various staff members including the executive housekeeper, assistant housekeepers, housekeeping members, and linen porters. These jobs provide the guests with that relaxing, luxurious vacation experience that comes from fresh linen each day and spotless rooms. Housekeeping also refers to the cleaning of the public areas of a resort including the toilets, lounges and lobby. Read more about Housekeeper Jobs.
Lifeguard Resort Jobs
The lifeguard jobs not only apply to the lifeguard on duty at the resort swimming pools, but are also hired to watch over swimmers that access the nearby beaches and rivers. Lifeguards are an important employee to have at any resort as they will look after the guests and keep them safe. Read more about Lifeguard Jobs.
Maintenance Staff Resort Jobs
The maintenance staff headed by the maintenance manager or maintenance supervisor and includes grounds men and repairmen who are required to fix anything that might not be functioning properly at the hotel and providing regular overall maintenance checks. This could be in the guests' rooms, or in any of the public facilities, as well as outdoors. Jobs could involve changing light bulbs, unblocking drains, fixing window and doors, painting, and much more. It is beneficial to have certain licenses for these jobs. Read more about Maintenance Staff Jobs.
PBX Operator Resort Jobs
The PBX operators are there to answer phones and must provide callers with any information they require, assist with reservations, and forward calls through to relevant departments. This is a customer service position, so good English speaking skills and a friendly personality are a must, along with being well organized. They are normally also required to perform administrative duties. Read more about PBX Operator Jobs.
Retail and Rental Staff Resort Jobs
Many resorts have gift shops and stalls for hiring equipment that is related to the facilities offered at each specific resort, for example, some resorts hire out skis and snowboards, SCUBA diving equipment, or gold clubs. Resorts also tend to offer curios for sale and the retail and rental staff will handle this. Read more about Retail and Rental Staff Jobs.
Security Resort Jobs
To remain a safe place for guests and employees, resorts hire security staff to ensure that everything is run smoothly and that everyone is safe. This can extend from checking ID's at the resort bar to patrolling the grounds at night to prevent thefts. Depending on the size of the resort hotel or amusement park, a team of security personnel will be hired including the manager, patrol guards, entrance guards, and security room operators. Read more about Security Jobs.
Other Resort Jobs
Aside from these main job categories, there are also jobs at resorts and amusement parks that include IT staff, who will be responsible for organizing the technological systems at the resort and who make sure that all the departments are able to communicate effectively with each other electronically. They also ensure that all the resort computer systems function correctly with no crashes, glitches or failures. Many resorts also offer internet to their guests and the IT department must ensure that the WiFi hot spots and room networks run smoothly.
Resorts need all kinds of instructors who lead different activities such as tennis instructors, SCUBA diving instructors, windsurfing instructors, and so forth. The instructors at resorts are there to provide guests with a first class experience in whatever activity they like. They offer advice, tips, provide training and assistance to beginners and more advanced individuals, and must be good at leading groups or individuals as well as providing instruction to children.
Many resorts have in-house spas and treatment centers, as well as fitness centers or gyms, which must be fully staffed with trained professionals in their respective fields. These jobs include massage therapists, manicurists, beauticians, personal trainers, and other beauty and fitness professionals.
Childcare and entertainment employees are required at most resorts and especially at theme park resorts where clowns, balloon sculptors, face painters, singers, actors, dancers, puppeteers, add to the atmosphere and experience. Some of the most unique types of jobs are profiled on JobMonkey too.
Depending on the type of resort, you will also find gaming and casino staff who are responsible for the safe and secure gambling protocols offered by the resort and ensuring that all guests can enjoy playing the various games. These positions include gaming floor managers, casino cashiers, dealers and more.
To search through all of the available jobs, you should check out the resort job listings.