Working for Disney
Cindy Weirich, a student at the University of Washington in Seattle, spent a summer working at the granddaddy of all amusement parks–Disneyland. She recounts her experience below:
As a person who has spent most of her life living in one place within an hour of her family, hearing of an opportunity to spend three months at working at Disneyland was a dream come true.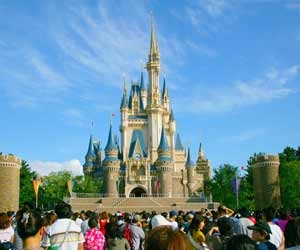 I could not think of a better summer job than working in sunny California with hundreds of other college students.
Our campus newspaper advertised an informational meeting for the Disneyland College Program, so the day that the recruiting officer was at the local college, my best friend and I were there to find out more about this opportunity. the first meeting consisted of a video which explained the different jobs that would be available, housing arrangements, and employee benefits. After the video, representative talked with the group about the "Disneyland look" that was required. The appearance was a basic, wholesome look with no extremes such as unnatural-colored hair or nose rings. Upon hearing their high Disneyland standards for employment I decided that I was still perfect for the job, so I took an application and made an appointment to take the next step–a group interview.
The next two days were filled with anticipation of what to wear and say at the interview. After all, I was determined to fit the Disneyland image. When the time came for me to file into the room with the four other people that I was interviewing with, I was fairly calm on the outside, but inside I was still nervous at the thought of spending the summer working for such an exciting company. Overall, each of us probably had to answer just four or five questions throughout the interview and those were mostly about why we wanted to work for Disneyland and what jobs we were willing to accept. The jobs ranged from operating rides to working in the restaurants and retail shops to doing custodial work around the park. Personally, I had decided that I would accept any work but custodial; I wanted to go to California but that was a little more than I could handle. At the conclusion of our interview, we were thanked for our time and told that we could expect to hear a reply in the mail within a week. Two days later I received a postcard offering me a position in the Disneyland "cast," about which I would receive additional information in approximately a month as to my new role in their company. At this point I was as excited as a sixteen-year-old with a brand new driver's license; I was off to California in June!
I later received in the mail a description of my future job as a culinary hostess, my rate of pay, and an application for housing. Through the college program, Disneyland set us up with apartments to rent for the summer, as well as roommates. Filling out the roommate request form was helpful as I could put down my personality type as well as my living habits so as to hopefully make a livable match. It also helped to be going down with a friend who I could share a bedroom with since four people were to live in a two-bedroom apartment. The form allowed for ranking in preferential order the areas in which I wanted to live. Housing was available in different neighborhoods, ranging from just a few blocks from disneyland to a more out-of-the-way complex in Huntington Beach.
Rent for the apartment was taken directly out of our weekly paycheck so we never had to worry about paying it.
Each of us was responsible for our own transportation to and from California, which I liked since I had a friend who I could travel with. We took a leisurely four-day drive down to Santa Ana, site of our summer home, stopping to see the sights on the way. We met our new roommates, who, surprisingly enough, I got along with without any major disasters!
The next few days before our jobs officially began we had seminars to learn about everything from the expectations of us as Disneyland employees to catching counterfeit money sometimes passed through the park. We also quickly learned to speak the Disneyland employee language in which the Disneyland park was thought of as a "show" with employees as the "cast." We did not wear uniforms but rather "costumes," and while we were walking through the streets of Disneyland we were "on stage" and expected to be on our best behavior. The back roads throughout the park for employees only were considered to be "back stage" and here you could see Mickey Mouse or Donald duck out of costume, which of course would never happen "on stage."
My first real day on the job I was met at the employee entrance by my lead worker, who was to show me the ropes for finding my time card out of the hundreds that were there and punching in on the official time clock, and then show me to the locker rooms where I would pick up my costume for the day. When I left him to venture into the unknown world of costumes, I had approximately fifteen minutes until my shift started. At the end of that fifteen minutes my costume was still two sizes too small, but I had to go regardless of how packed in I was. I quickly learned that the costumes ran extremely small and to allow extra time for fitting before each shift.
I had been hired as a culinary hostess for the various restaurants on Main Street along the entrance to Disneyland. This meant various things, depending on which restaurant I was assigned to for that shift. When working at the Town Square cafe, which was a fairly nice, sit-down restaurant, I had to seat the guests as well as cashier. This was basically the same for the Carnation Ice Cream Parlor: the fun came when I was given a shift at Coke Corner, where all that was sold was basic junk food such as pop, hot dogs, and potato chips. When I was not taking orders and cashiering, I had the pleasure of cooking hot dogs in the kitchen. I can still remember going home smelling like a big hot dog more than a few times!
As a temporary seasonal employee, I was guaranteed at least thirty hours per week with varying days off. It was normal to work a forty-hour week in eight-hour shifts, ranging from as early as 7:30 a.m. to as late as 2 a.m. I actually preferred working the late night shifts because at night they had the Electric Light Parade and at midnight Tinkerbell would fly through the sky and start the nightly fireworks show. It just seemed to make Disneyland even more magical with everything brightly lit up.
Even though I desperately missed my family and friends by the end of the summer, I would not trade the experience that I had working a Disneyland Job for anything. It was definitely the adventurous summer that I had anticipated at the start and the memories were worth the hard work. Plus, as an employee I had a constant free pass into Disneyland to play when I was not working! The Disneyland College Program is something that I would recommend for anyone who has a generally happy disposition and can feed off the energy of the guests who come to enjoy themselves for a day at "The Happiest Place on Earth."
For more information regarding getting a theme park or amusement park job check out our Theme Park Employment Section.