Challenges for SCUBA Instructors
Being a SCUBA instructor has its challenges and aside from the many different courses that you have to take to become a certified instructor, you will find that there are other issues you will face working as a resort SCUBA instructor.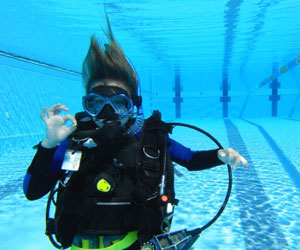 What is Expected of a SCUBA Instructor at a Resort
At a resort, the SCUBA instructor often works out of a diving shop in the area and is merely contracted by the hotel or resort to take group diving expeditions. Some resorts offer SCUBA dive training for children and for beginners, as well as offering experienced divers a special underwater tour. You will not only be expected to take tours, but participate in giving safety talks and explain to people how to use the equipment.
Other resorts might hire a SCUBA instructor to be on staff who will have other duties aside from functioning as the diving guide. He or she might also have to perform poolside duties such as giving swimming lessons.
SCUBA instructors also need to be good sales people, which is something you have to factor in if you want work at a resort. You will often need to sell the SCUBA tours to vacationers and also the equipment. You will sometimes have to work in the store that hires out the SCUBA diving and snorkeling equipment, so being customer service orientated is required.
Did You Know? You can expect to work around 12 hours a day sometimes longer, although you normally get 2 days off per week.
Challenges of Being a Resort SCUBA Instructor
There are many challenges that you face as a SCUBA diving instructor, although it might not cross your mind at first. The main stress is that you are responsible for other people's lives and have to ensure that you look out for the safety of a group of people. As one SCUBA instructor says:
"You have people's lives in your hands and this can be very stressful. You must teach them the correct way to do things, as this could be the difference between life or death. While it is very stressful when you start out, it gets better, the longer you do it and the more experience you gain."
Another challenge of the job is to handle all the admin and preparation work that is involved with leading a SCUBA diving group. There are lots of other duties aside from the actual dive and SCUBA instruction one instructor even reported that he had to clean toilets. This is not the norm, however, but you do need to be prepared to do just about anything. One instructor advises:
"You should be ready to do more than just diving. There are lots of other things you need to do as well including washing the vans that take the people out, selling trips, and working behind the counter at the dive shop. You must be a team player and ready to help out wherever you can."
Another aspect you might not enjoy is the long hours. Although the dives are around an hour or maybe less, you have a lot of other work to do that will keep you busy all day and prepping for the following day can sometimes take a long time. At many resorts you are also often required to make an appearance at the evening meals and entertainment to mingle with the guests and this can lead to late nights with very early mornings. This can be tough on some people.
Quick Summary:
Be prepared to work long hours.
Be prepared to do a lot of other work besides teaching people to SCUBA dive.
You might be required to socialize with the guests.