Are you Cut Out for Resort Work?
Although it sounds like a vacation, working at a beach resort or any resort hotel is hard work and requires dedication from its staff, whether you are employed on a seasonal or full time basis. There are certain aspects to working at a resort that you might not like, but at the same time there are parts that you will love – it all depends on your personality. So, let's take a look at some of the aspects that make a good resort worker and what you need to be aware of before you get involved in this line of work that could be a potential drawback.
A resort Human Resources Director told us what she looks for when making a hire:
"What I need to see from you – I need to see energy, fun, excitement – somebody who loves to be around people, someone who likes to laugh and have a good time, and build relationships."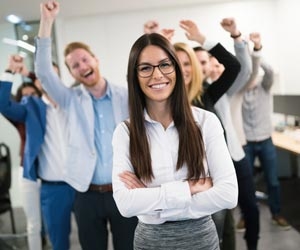 What Makes a Good Employee?
Resort work is customer service orientated, so this must be the main element about it that you enjoy. Here are some of the things that current and former resort employees working in the UK feel is very important to be able to do this kind of work:
"Resort workers have to be easy going, hard working, team players, who are there to have fun and work hard."
"Fun, friendly, outgoing, hardworking people."
"Outgoing people make the best resort workers – people who are fun and up for meeting new people, making friends with new people every day and those who are up for new experiences."
"To be a good resort worker, you definitely need lots of enthusiasm. You've also got to be resourceful, able to hit the ground running and not scared of whatever crossed your path. To remain calm as well, but of course you are always working for a company where have paid to come on holiday so customer service has got to be really top notch as well – everyone has paid to come away and have a good time and you owe it to them to let them experience a really good time."
"Being a relaxed person who is not too serious make the best resort workers, as your relaxed attitude will make the guests feel comfortable, especially if you are an instructor of any kind working with people every day and sometimes seeing them when they are out of their comfort zones. "
"You need to have a lot of patience and you've got to be happy and chatty and you have to want to be there for your guests. You have to be able to get up at any time of the morning no matter how late you got in the night before and still be smiling and happy."
"The best resort workers are lively and really active and customer service is the big, key thing in this line of work."
"People who are up for a good time and who want to have an experience, but who are not doing this work solely to make money – resort work is not really for that."
"People with energy, because its lots of hard work – its good fun, but hard work with late nights and early mornings."
"You need to be very organized and ready to solve problems that arise with reservations, activity schedules, and with people's rooms."
A manager of a ski resort comments about what he likes to see in his employees:
"Fairly steady people – you can't be volatile because of the nature of the job and you've got to be ready to just get on with it. I'd much rather have people working for me that just got on with the job, no questions asked, just to do the work, and maybe come and speak to me after your shift if you have a problem with anything."
Quick Fact: Before you apply for a resort job, make sure you know what you are getting, where you will be living, how many hours you will work, and all the details before signing any agreements.
The Positives of Resort Work
Now that you have seen what is required to be a good resort employee, let's take a look at the upsides of the job.
Travel opportunities as you can work at resorts anywhere in the world.
You get to work and live in an upscale environmental with the top class facilities.
Your room, meals, and some facilities are free or discounted.
You have the opportunity to meet new people, whether they are guests or your fellow employees.
You will become like a family with your co-workers.
You get to enjoy a working vacation.
You will gain plenty of work and life experience.
You get to do something you love while making money, specifically as a sport or activity instructor.
Your working schedule is fairly flexible as some jobs will allow you to choose shifts.
Earnings are not fixed to an hourly wage alone, but you can set your own goals with regards to gratuities.
It is quite easy to save money when working at a resort, because most of your time is spent working at the resort, so there is little chance of going out and spending it all.
Much of the work is seasonal, so you do not have to commit to long working arrangements or sign any permanent contracts.
There is a lot of scope for career advancement.
It is easy to get a job working at a resort or amusement park.
No previous experience or qualifications are required to land a resort job.
One former resort worker revealed what he enjoyed the most about working at a resort in Japan:
"Waking up every morning and having my cup of coffee whilst overlooking the mountains, was the best part of my day. Looking at the beautiful scenery and where I was, I used to think, I didn't have to pay to enjoy this – they are paying me."
The Negatives of Resort Work
As with any job, there are downsides, so let's take a look at these in more detail to give you a better idea of what you are getting into when working at a resort hotel or amusement park.
You work long hours, sometimes with late shifts, and it is really easy to get burned out if you are not careful.
You normally receive accommodation in a dorm room or shared living situation, which might not be ideal for some people. The accommodation is often very basic with about 4 or 5 people sharing an apartment or house.
If you are settled with a family, resort work can be difficult, unless you are prepared to live very close to the resort. This also depends on the type of resort job you have.
If you are not a people person, then this line of work is definitely not recommended.
The pay is not great for resort workers, so if you want to make lots of guaranteed money, this is not a viable option. You do receive tips however, at many resorts, which can lead you to make a good salary in the end, but it is not guaranteed at all.
It is tiring, often physical work.
It is very challenging and problems do arise that you need to be able to deal with effectively.
You must be prepared to work at the last minute to cover a shift or during peak periods where additional workers are required.
You don't get a lot of time off. Your shifts are long, and you generally need to work 6 or 7 days a week, but you might receive a day off every now and again.
It can be difficult to separate your time off from your work time and you might not feel like you are off duty, when you are at the resort surrounded by your co-workers and guests, who still see you as an employee even when you are off duty.
One employee working at a resort in the Dominican Republic shared his thoughts,
"It is hard to get any privacy or time to yourself when you have a day off and the only time you can really relax is when you are in your room. Otherwise you are always smiling and putting on your work face."
As you can see, to work at a resort is the perfect fit for an outgoing individual who is full of life. For those who put their all into it, have a good attitude, and are mentally and physically prepared and able to work really hard, it will transpire into the most rewarding experience of your life.
Quick Summary:
Customer service skills are the most important aspect to being a good resort worker
Positive aspects of resort work includes travel and socializing
Negative aspects of resort work includes long hours and mediocre pay
You don't need formal qualifications for most resort jobs