Work Abroad in Australia
Most of us have gazed out the window of our office and longed to see something different. Gray smoggy skies and drab cement-filled cityscapes aren't exactly enticing. So why not leave us all behind? Australia.com reminds us of the beauty of the land Down Under with its images of the vibrant surf beaches of Sydney, the underwater paradises of far North Queensland, and rugged red beauty of the Outback. It might seem like a pipe dream to imagine enjoying these stunning scenes in person, but Australia.com explains how to make it happen.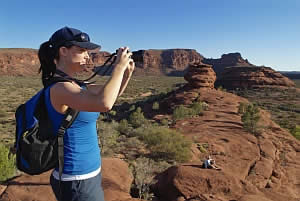 The website details the Australia Work and Holiday visa, a program which allows residents of eligible countries, including the United States, Malaysia, and Turkey to spend up to 12 months in Oz. This year can be spent studying or working while enjoying a vacation in your down time. It might seem daunting to find work in a foreign country, but you need not be concerned.
Australia has not felt the effects of the global recession to the same degree experienced by many other countries. Job prospects are good, particularly if you're willing to do anything to earn a crust. Most tourists want to work in the big cities like Sydney and Melbourne, so you'll have less competition if you look for jobs in regional areas. Consider working on a cattle station, in the mines, or on a farm or orchard. If your heart is set on city life, a job in hospitality is probably the easiest to get.
This is particularly true in the cities of Western Australia, including Perth, Kalgoorlie, and Broome. The recent boom in mining and resources has seen the state flourish, and restaurants, pubs, and hotels often struggle to find enough staff to meet the demand. Tourism is also another flourishing industry in the Western Australia. You could find yourself snorkeling with giant manta rays in the Indian Ocean, leading tours to the Bungle Bungles, or educating visitors about Western Australia's rich Aboriginal heritage.
If life in Western Australia appeals to you, consider investigating the Outback Pub program run by Workstay. The scheme places foreign workers in pubs and clubs in Perth, its suburbs, and other more remote areas of Western Australia at no cost to you. The program is generally quick to place applicants, with an average turnaround of between two days and two weeks. Workstay will secure your employment, and complimentary accommodation and meals, as part of the package. No bar or hospitality experience is necessary, although it may help you secure a position faster and a higher wage.
Bar work is a common option for Work and Holiday visa holders, but if you hope to man the pubs in Sydney, and other New South Wales locations, you'll need some paperwork. The state requires anyone working around alcohol to pass a course in the responsible service of alcohol, known as the RSA. This certification is not required in other states at this stage, but it will give you a real advantage when job hunting. The course is often offered in conjunction with the responsible service of gaming certificate, known as the RSG. This is necessary when working in casinos and other establishments where patrons gamble, such as bowling, workers, and leagues clubs. These short courses cost less than $100 each to complete, but they are nationally recognized.
While it's tempting to utilize the skills you gained at home, and often advantageous when it comes to negotiating wages, another tactic for Work and Holiday visa holders is to try something entirely new. By investigating new industries, you will open yourself up to brand new experiences and potential job opportunities. Australia.com has many suggestions for visa holders unsure about the direction their vacation will take.
If you're lured by the appeal of visiting the Australia Outback, you could consider immersing yourself in rural life with work on a cattle station. It's hard for city folk to imagine riding horses all day, and getting paid to do it, but that's just the life you could enjoy. Australia.com details week-long courses which will get you cattle station ready. Once you've learnt how to shear a sheep and work the yard you'll be placed in a station, where you'll generally enjoy room and board, and wages on the side. If you find a drover's life isn't for you, you can always bail out once your training is complete.
Most visa holders will spend some time sunning themselves on Australia's beaches, but why not get paid for spending time there? The market for surf instructors is growing, and the skills you'll learn in Australia will allow you to do the job anywhere else in the world. You'll need qualifications in surf instruction and beach lifesaving, but experienced coaches will help you get them no matter what your skill level. The rate of pay isn't great when you're starting out, but when you're enjoying the sunshine and catching waves that's easy to overlook.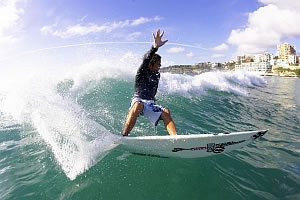 If you'd prefer work outside the most popular industries for visa holders, don't lose hope; it may just take a little more time to score your dream job. In the mean time, why not take a temp position?
As its name suggests, a temp job is a temporary position which will give you more experience and put a few dollars in your pocket while you're looking for a more permanent gig. Temp jobs can last for anywhere between a few hours to a few months. They generally don't require any set qualifications, and they tend to pay well.
If temp work appeals to you then sign up with a temp agency. Many companies contact these agencies if they are busy, or if they have staff members on extended leave. Adecco and Drake have agencies nationwide, but a Google search can help you find others in your local area. An agency will test your skills and ask questions to find the job you're best suited for. While temp agencies help workers find jobs in all fields, they're particularly suited to travelers with an interest in administration, secretarial work, and hospitality.
Temp workers are also employed at events, such as music and cultural festivals. You could man the bars, sell merchandise, or set up the stage. While you'll probably be too busy to see your favorite band's performance, you'll certainly hear it! This work is also available to unqualified workers, although those with RSA certification and customer service skills will have an edge over unskilled workers. Most music festivals and events typically advertise for temporary employees through their official websites. Visit Australia.com/WorkandPlay for details of Australia's biggest music festivals and links to these sites. Jobs at these events are very popular, so apply early to have the best chance of selection.
Fruit picking is another option for travelers looking for a temp job. Farms, vineyards, and regional companies all look for extra workers to cope with the pressures of harvest season. Getting out of an office and enjoying nature is just one of the perks of fruit picking. It's also a great way to see the countryside, with everyone from winemakers in Tasmania to mango farmers in the Northern Territory needing temp workers. See Australia.com for more information on fruit picking, and the Harvest Trail job search.
Finally, no matter what industry you hope to experience in Australia there are some general tips which will help you realize this dream. Consider the job seeking tools at your disposal, and use them. Network with travelers and other locals to discover who might be looking for work. Some employers are willing to hire anyone with a keen attitude, so don't be afraid to approach the businesses that interest you. Job listings are also posted in all local newspapers and online through the major employment websites, MyCareer and Seek. Browse these listings daily, as the most interesting jobs will be snapped up.
Keep your eyes peeled as you walk around malls and city streets, as many businesses will post help wanted signs in their windows. Recruitment companies are also excellent resources, particularly for jobs in business and information technology.
Just as it would back home, finding work in Australia requires persistence but it's important not to lose hope. With a friendly attitude and enthusiasm for challenges, you will find an employer willing to take you on. If you're looking for more inspiration on your job search consider the employment and Work and Holiday visa advice offered on Australia.com.