Boilermaker Jobs
Does the word boilermaker make you think of a University of Purdue student? What about a shot and a beer? Well… a boilermaker is also a very respected career. Boilermakers assemble, install, repair, fix, and clean containers like boilers, vats, or vessels that contain high-pressure gases and liquids. These containers are made from iron or steel and are used for a variety of things like providing steam to drive ship turbines, powering electric plants, supplying heat and hot water, storing unprocessed oil or chemicals, ventilating factories, pumping water through dams, or aiding in the brewing of beer.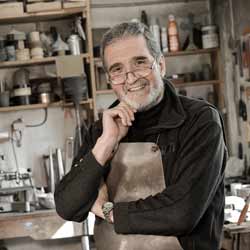 Every day in the United States about 19,000 boilermakers go to work and perform a vital demanding job that requires physically fit people.
Most boilermakers work in construction, but some work in the manufacturing industry. Boilers are used for processing and storing both liquids and gases. They are found at all sorts of locations – shipyards, power plants, factories, iron and steel industry, railroads, oil refineries, chemical plants, industrial firms, mining operations, and large buildings. Boilermakers build and maintain these containers.
Related: Oil Refinery Jobs, Railroad Jobs
When a boilermaker goes to work, he may build a new container or service an old one. Most boilers are designed and built to last 50 years, so maintenance is critical. Boilermakers often visit sites to test containers for weak spots caused by general wear and tear. A hole in a giant power reactor or dam can be dangerous and cause lots of damage.
Maintenance requires a variety of tools, some of them dangerous. Plumb bobs, acetylene torches, levels, wedges, turnbuckles, cutting torches, files, grinders, and welding equipment must be easily accessible. Because of the danger, safety is a definite focus. Boilermakers need to wear hard hats, harnesses, gloves, earplugs, safety goggles, and other protective clothing. Sometimes they need to use respirators if they are in poorly ventilated places.
Boilermakers read blueprints so they can check that parts fit together properly and that everything is still airtight. Inspection of water tubes, valves, gauges, and turbines is necessary. Bolts may need to be tightened and certain sections may need welding to ensure the container is safe.
Boilermakers work indoors and outdoors. Traveling to different locations is common. Work takes boilermakers into poorly ventilated areas like the engine room of a cargo ship, hundreds of feet off the ground to a 100,000-gallon water tank on a dam, or to a corporate office's hot water boiler. Sometimes they even dabble in residential furnaces and water boilers. Wherever they are working, they get to use dangerous tools and molten metal.
Only a high school education is required, but a welding certification is a nice addition to any future boilermaker resume. Boilermakers learn this trade through an apprenticeship arranged by the Boilermakers National Joint Apprenticeship. The program includes 144 hours of classroom training and 6,000 hours of on the job hands-on learning that takes 4 years to complete.
Upon entering this industry, most boilermakers join the International Brotherhood of Boilermakers Union.
Boilermakers are highly trained construction experts. After learning the trade they can make about $21 per hour or $20,000 to $70,000 per year. Most work about 40 hours a week, but sometimes overtime is necessary – a broken boiler won't wait. Find jobs by contacting firms or government agencies. Most jobs will be found through the apprenticeship program.
Boilermakers work hard so that we can have power, electricity, hot water, heat, and beer. It's a wonderful trade. Without these modern day blacksmiths our lives would be very different.
Quick Facts About Boilermaker Work
Job Title: Boilermaker
Office: Indoors and Outdoors near giant containers
Description: Build and maintain high-pressure containers
Certifications/Education: Apprenticeship
Necessary Skills: Physically fit
Potential Employers: Construction firms, Manufacturing Companies
Pay: $20,000 to $70,000 per year, $48,000 is average
Helpful Boilermaker Employment Links:
Search Boilermaker Jobs on JobMonkey
American Boiler Manufacturers Association
International Association of Machinists and Aerospace Workers
International Brotherhood of Boilermakers
The National Board of Boiler and Pressure Vessel Inspectors
Boilermakers National Joint Apprenticeship