Backcountry Ski Guide Jobs
Backcountry ski guides take people skiing in remote, mountainous, backcountry environments. Being a backcountry ski guide can be a risky, demanding, and rewarding outdoor career.
Due to the allure of powder skiing, the remoteness of the mountains, the pursuit of adventure, and the ski industry's marketing, backcountry skiing and snowboarding has grown in popularity over the last few years. This means more opportunities for ski guides as clients want to leave the relative safety of the ski resort to explore.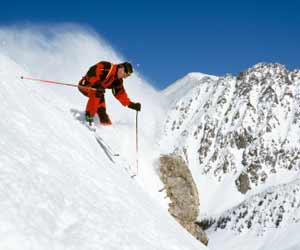 The mountains are unpredictable places where unseen hazards and avalanche dragons lurk. This is why people hire backcountry ski guides to show them a good time, find pristine conditions, and help navigate the mountainous terrain safely.
Backcountry ski guides work in several capacities. They fly guests to mountains in helicopters, ride to powdery ridges in snowcats, explore the wild snow outside of the ski area boundaries, or use human power to access remote peaks and pristine snow. A well-rounded ski guide can do it all.
To become a ski guide, you need to have a passion for the mountains. Spend your time in the mountains to develop your mountain sense. Perfect skills like navigation, rope work, route selection, shoveling techniques, snow science, avalanche analysis, glacier travel, self rescue, mechanized travel, human powered travel, and more. Be effective and efficient because those skills could save your life or your client's life. Document what you do so that you can learn from it and build your resume. Finding a skilled mentor will help you fine-tune these skills.
Backcountry ski guides also need to be expert skiers who have exceptional people skills. It may seem odd, but skiing is the easy part of the job. Being responsible for another persons safety in a wild environment is the challenging part. Skiing in the backcountry can be a risky job if it's not taken seriously. A backcountry ski guide must deal with peer pressure and human factors too. They must be able to make the right decisions for the safety of the group at all times.
Most ski guides start their winter sports career as ski patrollers or ski instructors before they become ski guides. Ski guides need to earn certifications in avalanches, first aid, and ski instructing. As the guiding industry grows, more guiding companies are requiring guides to earn ski guiding certifications from organizations like the American Mountain Guide Association (AMGA). AMGA certifications are not required by every guiding operation, but it will definitely help you find a job.
Search Ski Industry Job Listings
Since winter is a seasonal sport, travel is often required to find snow. Many guides spend time in Washington, Alaska, Colorado, Wyoming, Canada, Chile, Antarctica, the Alps, or New Zealand. Some guides develop their guiding skills to include rock and alpine skill sets. This can lead to a full mountain guide certification with the IFMGA.
Finding a ski guide job is a very competitive process. The best places to find backcountry ski guide jobs are with private guiding operations. These guiding operations may focus on ski touring, ski mountaineering, cat skiing, heli skiing, or avalanche courses.
The job of a ski guide has been called one of the best jobs in the ski industry. Once you get a job, remember that the guiding industry is ruled by seniority. It takes time to establish yourself, build your clientele, and stay busy. The annual salary of a ski guide is about $34,000 plus tips.
Do you have what it takes to be a ski guide? Are you ready to dedicate your life to the mountains? Are you keen to ski every single day? Maybe you should find a backcountry ski guide job.
Quick Facts About Backcountry Ski Guides
Job Title: Backcountry Ski Guide
Office: Mountain environments
Description: Safely ski with guests in a guided backcountry environment
Certifications/Education: First Aid, Avalanche, Instruction, Guiding
Necessary Skills: People Skills, Snow Science, Rope work, Guiding Technique, Mountain Sense
Potential Employers: Private guiding companies
Pay: $34,000 plus tips
Helpful Backcountry Ski Guide Employment Links: