Ayurveda Practitioner Careers
Do know what the world's oldest healthcare system is? More than 90% of Indians use some form of it. It's called Ayurvedic medicine. As interest grows in this alternative and holistic approach to medicine, there is a big opportunity for aspiring Ayurveda practitioners.
Ayurvedic medicine is a traditional Hindu medicine technique that started thousands of years ago in India. The word Ayurveda is a Sanskrit word meaning "life knowledge." By focusing on the interconnectedness of the mind, body, and spirit, Ayurveda practitioners can treat any illness.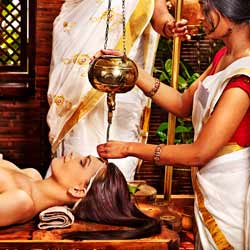 Ayurveda has evolved over time to become a respected form of alternative medicine in Western culture. Ayurveda practitioners holistically focus on the whole body and try to get things back into balance. They specifically look at diet, lifestyle, and mental state.
When a client visits an Ayurveda practitioner, they are seeking help for an illness or ailment. An Ayurveda practitioner's job is to develop a specific health plan designed to fix that person's issue. They do this holistically through the use of herbal medicines, mineral and metal supplements, surgical techniques, sense therapy, massage, yoga, meditation, cleanses, and diets. By changing a patient's approach to these things, an Ayurveda practitioner is able to re-balance their body, mind, and spirit.
Officially, practicing Ayurvedic medicine does not require any formal training, but it is highly recommended if you want to find work and get paid. To become an Ayurveda practitioner, you will need to seek specific training in this form of Eastern medicine. You can choose from a variety of high quality educational institutions both in the US and in India. To find specialized training in Ayurveda, visit the National Ayurvedic Medical Association, or NAMA.
NAMA is a self regulated association of Ayurvedic professionals. They have designed three different competencies for anyone aspiring to work in Ayurvedic medicine. Those competencies include Ayurvedic Health Counselor, Ayurvedic Practitioner, and Ayurvedic Doctor. Each one allows for a different scope of practice. The Ayurvedic Practitioner course takes approximately a year to complete and runs between 500 and 1000 hours plus final exams. Upon completion, no license is required to practice.
During your training you will learn about basic anatomy and physiology, chemistry, biology, the history of Ayurveda, Sanskrit, diet, yoga, pathology, medicine, herbs, and more. You will else delve into Ayurveda topics like the eight components, seven tissues, five elements, twenty gunas, and so much more. It's a fascinating career path.
Many Ayurveda practitioners and students come from a traditional healthcare background. They may be doctors, nurses, or EMTs. This way they can help to blend Eastern and Western medicines to help patients see the best results – a practice that is growing in popularity.
After an aspiring Ayurveda practitioner attends an Ayurveda training and passes the National Ayurvedic Medical Association exam, they can find work at private practices, medical centers, hospitals, wellness centers, and Ayurvedic colleges.
Ayurveda practitioners can expect to make between $20,000 and $100,000 per year. Pay depends on location, experience, success rate, referrals, and other factors. There is a growing interest in holistic and alternative medicines, so now is a great time to pursue a career in Ayurvedic medicine.
If you enjoy helping others and believe in the practices of Ayurveda, then find a job as an Ayurveda practitioner. Helping others achieve mental, physical, and spiritual balance is a rewarding way to make a living and it will keep you healthier too. Are you ready to become an Ayurveda practitioner?
Quick Facts About Ayurveda Practitioner Careers
Job Title: Ayurveda Practitioner
Office: Wellness centers, Private medical practices
Description: Treat patients holistically with Ayurvedic medicine
Certifications/Education: NAMA exam, Ayurvedic medicine training
Necessary Skills: Belief in Ayurvedic medicine, Caring personality
Potential Employers: Medical practices, Private practices
Pay: $20,000 and $100,000 per year
Helpful Ayurveda Practitioner Employment Links: