Content Strategist Jobs
What websites do you frequent? What keeps you going back for more? Is it the content? Behind all that valuable and reliable content is a creative content strategist.
A content strategist plans, develops, manages, strategizes, delivers, and publishes content via the Internet. It's a digital media specialty that is highly valued by companies and websites as it helps to boost their web presence, solidify their brand, and engage their audience.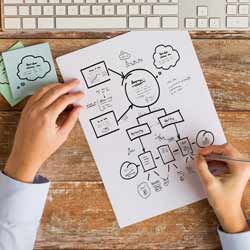 Content strategists focus on content that is published via websites, social media, newsletters, emails, videos, and other formats. As the voice of the brand or website, content strategists strive for a consistent voice, tone, topic, and frequency across all of the digital mediums. This is what keeps the audience engaged and interested.
Basically a content strategist helps their employer develop their brand via a coordinated content attack. Every move is planned out. Based on the audience, a content strategist will factor in when, where, what, and how to post the most effective content.
Content is king. It can mean the difference between success and failure for a brand. By driving content, it increases the awareness and reach of a brand. People want information. To find that info, they head to the Internet search engines. If a content strategist has published useful content, the brand is more likely to be found. Then when a guest likes something or uses it as a reliable source, they will come back for more. This means a bigger and more engaged audience.
In today's digital age, it's amazing how trackable content is. Content strategists start with measurable goals. Then they are able to track their tactics and techniques based on analytics, likes, shares, follows, links, pins, searches, and other factors. This quantifiable data is a direct reflection on the success of their content strategy.
To be a successful content strategist, you must understand the project, organization, audience, goals, competition, and brand. This understanding will help you form a business plan with the right focuses. Then you can strategize and develop a long term vision, which allows you to integrate appropriate content at the right times.
Content strategy is a growing and changing field. It's a mix of content production, social media skills, audience targeting, web analytics, SEO, user experience design, and other quickly evolving factors. It's a job that may be different at each company. A content strategist may be a writer, a social media manager, or a strategist. Sometimes they work solo and other times content strategy is a team effort.
The goal of the job is always the same – to develop and publish useful, focused, reliable, credible, consistent, and timely content at regular intervals to keep people coming back for more. It's an essential component for building a brand and cornering a market.
With a bit of guidance, content strategists are essentially the brain behind the brand. To become a content strategist you need to develop a portfolio of writing samples and create a resume with quantifiable and measurable data. Content strategists may have degrees in writing, journalism, business, or communications. They may have previous work experience as freelancers, bloggers, social media management, or user experience designers. All of these backgrounds are content focused and that's the key to success in this cool job.
Aspiring content strategists can find jobs with websites, businesses, and even individuals. Once established as a content strategist, you can expect to make $45,000 to $110,000 per year. The average annual salary is $72,000.
Even as you read this, the job of a content strategist is evolving. As technology expands, so does this job. The goal doesn't change. It's all about providing your audience with what they want. Can you do that?
Quick Facts About Content Strategists Jobs
Job Title: Content Strategist
Office: Online
Description: Develop and publish content via digital media
Certifications/Education: Portfolio
Necessary Skills: Social media, Writing, Technology
Potential Employers: Websites and businesses
Pay: $45,000 to $110,000 per year
Helpful Content Strategist Employment Links: