Cable Installer Jobs
Do you have an Internet connection? Can you turn on the television and watch ESPN? Does you phone always get a signal? Most people in the United States rely on wires and cables to stay in touch and stay in tune with the world. It's the job of a cable installer to make sure the wires keep us connected. Are you wired?
Cable installers install, repair, set up, upgrade, and downgrade cable systems for homes and businesses. These telecommunication workers maintain the wires necessary for voice, video, and Internet – all things that we depend on for life, work, and socialization.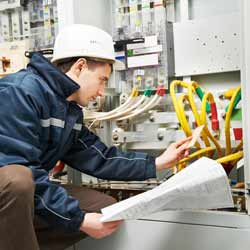 When you think about how many places you can find an Internet or phone signal, you will realize what a huge job cable installers really have.
To ensure that cable is easily accessible, most cable installers work 40 hours per week, but may do overtime to make sure signals are strong and customers are happy. Each day cable installers are given a list of jobs to get done in their region. They use a company vehicle to visit each location. In a typical day, a cable installer may set up Internet and cable television at a residential house, upgrade copper wiring to fiber optics to increase bandwidth for a business, disconnect the cable of someone who didn't pay their bill, or troubleshoot a cable problem in a neighborhood. Every job is a bit different, but they all involve wires, people, and new locations. Cable installers are hardly ever in an office.
Did you know that cables don't just magically appear outside your home? Cable starts at a central location and travels down a main cable line called the trunk line. Offshoots of the trunk lines are feeder lines that supply large consumer areas. Then the feeder lines branch into drop lines that supply specific houses and businesses. Cable installers must be familiar with the entire wiring so they can find problems quickly and keep the world connected.
To be safe, cable installers need to have a basic understanding of wiring and electricity. They must also be customer service experts. They are both the labor and the face of the company because they visit each client's place of business or home to run wires, test signals, and fix problems. Cable installers must be able to give advice on how to operate cable systems and describe different cable packages to subscribers.
Typically cable installers work for cable companies like Time Warner, Comcast, Charter, DISH, COX, or Cablevision. Related: Comcast Jobs. These companies typically only require cable installers to have a high school diploma.
Most cable installers learn the trade through on the job training, although some do attend trade or vocational school. There is also training and certifications available from the National Coalition for Telecommunications Education and Learning (NACTEL).
Cable installation is a growing field because our world is becoming more wired and our society is more dependent on the services of cable installers. It's a good business to get involved in because cable companies offer their employees excellent benefits, health insurance, and retirement funds. There is minimal office time, so you get to see the world and spend part of your day outside.
We live in a wired world. Wires are the reason that you can tune in to CNN, send an email to your co-worker, or chat on the phone to a relative in Sweden. The telecommunication industry is booming and the whole world is reaping the benefits. Now is a great time to become a cable installer.
Quick Facts About Cable Installation Jobs
Job Title: Cable Installer, Cable Technician, Cable Guy
Office: At residences and businesses
Description: Install, upgrade, and set-up cable services
Certifications/Education: On-the-job training
Necessary Skills: Customer Service, Electrical skills
Potential Employers: Cable Companies
Helpful Cable Installer Employment Links:
Search Cable Installer Jobs on JobMonkey
The Television and Cable Factbook
Communication Workers of America
National Cable and Telecommunications Association
National Coalition for Telecommunications Education and Learning
Society of Cable Telecommunications Engineers