Art Therapist Jobs
Art is a form of expression and communication that is linked to our subconscious. The creation of art is a positive process that can unveil many things about the artist that might not be discovered otherwise. The process of creating art and the analysis of art creates the cool and rewarding niche of art therapy.
Art therapists help people create art and evaluate the final project. They can dive into a patient's artwork to help them deal with their emotions, awareness, communication, development, and other issues. Art therapy is a valuable mental health profession that mixes therapeutic skills, psychology, and artistic knowledge into a very cool career.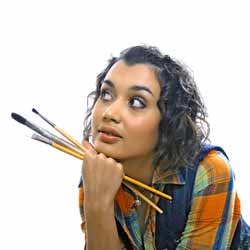 Art therapists work with people in safe and secure environments. They may work with patients one on one or in a group. Their patients may be dealing with homelessness, cancer, loss, phobias, depression, behavior issues, substance abuse, relationship issues, personal trauma, or some other unfortunate situation. It doesn't matter what their age or background, art is a positive and creative outlet for all.
First, art therapists must assess each patient. Next, they must determine which art form is best for the patient – paint, acrylics, printmaking, pencil, weaving, sculpture, ceramics, metal work, mosaic, photography, markers, or something else? Finally, it's time to head to the art studio and let the patient create art.
Patients do not need to be good at art. The process of creating art is healthy and finishing a project is always an achievement. Plus, the final product is always fascinating. While the artist creates, the art therapist provides guidance and watches the process as the patient channels their energy into the art. When it's done, the art therapist objectively explores the meaning of the artwork. Art helps people to define feelings and emotions. It spawns discussions about both the hidden and the obvious meanings of the final piece.
The process of sharing ideas helps to open the doors of communication and allows the art therapist to delve into emotional and mental issues that afflict the patient. As the art therapist comes to conclusions about the patient, they may refer patients to other therapists, consult with medical doctors, confer with mental health professionals, coordinate with caregivers, or schedule additional art sessions for further evaluation.
To become an art therapist, you need to have a bachelors or masters degree in art therapy or psychotherapy. Most art therapists also have a degree in art or art history. Art therapists are required to have 1000 hours of supervised client work before they can apply for certification through the Art Therapy Credentials Board. Once accepted, they can become a registered art therapist.
Mixing art and therapy into a counseling career is a cool way to make a living. Art therapists can find work in private healthcare facilities, educational institutions, prisons, hospice settings, drug and alcohol recovery centers, halfway houses, children's homes, art studios, private practices, social centers, schools, and other locations. It's rewarding to see how art has the power to heal and treat patients.
Art therapists make a decent salary of $30,000 to $100,000 per year. Pay depends on location, experience, employer, and other factors. To be a successful art therapist, you need to be passionate about all forms of art and enjoy helping others on a daily basis. If this sounds like you, then find a job as an art therapist today.
Quick Facts About Art Therapist Jobs
Job Title: Art Therapist
Office: Art Studio
Description: Explore patient's underlying issues by using art as a creative outlet
Certifications/Education: Certification through Art Therapy Credentials Board
Necessary Skills: Nonjudgemental, Knowledge of art, Caring, Helpful
Potential Employers: Healthcare Facilities, Prisons, Schools, Art Studios, Private Practice
Pay: $30,000 to $100,000 per year
Helpful Art Therapist Employment Links: