Campground Host Jobs
What if there was a job that was dog friendly, rent free, and outdoors? What if the office had spectacular views like the peaks of the Tetons, the wild rivers of Yellowstone, the forests of the Adirondacks, or the desolate beaches of Washington? Great outdoor jobs like this exist for campground hosts.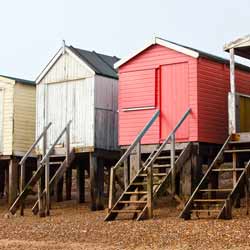 Campground hosts, or workampers, manage campgrounds across the country. In exchange for a free site to pitch a tent or park an RV they perform small tasks – greet guests, answer questions, do routine maintenance, light cleaning, and possibly collect campground fees. It's an easy job that anyone who enjoys traveling, living outdoors, and not paying a mortgage can do. Take note, too, that in Europe these are campsite courier jobs, which is a very different kind of title.
The nomadic life of a campground host is great for retirees, couples, and adventurous outdoors people. You may spend six weeks exploring Rocky Mountain National Park before heading to North Carolina's Outer Banks. You can commit for a season or only for a few weeks, but you always get to move on to someplace that's just as cool as the last.
Campground hosts need to be enthusiastic, outgoing, and friendly. They need to be highly visible in the campsite and make people feel welcomed. All sorts of people go camping, and you are guaranteed to meet a wide range of characters from all over the world who are full of questions. It's your job to be the expert on everything. Once you're settled in be sure to get out and explore the hiking, rafting, climbing, biking, fishing, and other local activities. This way you can make recommendations and point campers in the right direction.
The job requirements are different at every campground. Many sites will ask you to meet guests, give advice, field questions, clean campsites, sell firewood, maintain facilities, clean toilets, register campers, collect site fees, or give presentations. Campground hosts need to do all these things and more, like knock down cobwebs, with a smile on their face.  They may also be expected to give bear warnings, tell loud campers to be quiet, or distribute maps. There is lots of responsibility, but plenty of time to play too.
Every campsite is unique and there campsites are everywhere – private land, state land, federal land. Some may be nestled by a babbling brook, while another is an easy access interstate RV park. Be sure to research the campsite you want to work at. Dedicating a month of your life to working at a KOA near I-90 may not be what you planned.
Campground hosts can find jobs by contacting parks or RV campsites. Check with state and government groups like the National Park Service, Bureau of Land Management, or the US Forest Service. Also look into jobs with private companies like KOA, Recreation Resource Management or Aramark. These companies employ a large number of campground hosts across the country. Private companies are more likely to pay you for your services, while a government site will want volunteers.
Campground hosts live in some of the most scenic places in the world for free – of course they have to supply their own tent or RV and food. But some organizations pay you too – as much as $500 to $800 per month.
Living outdoors isn't for everyone. If you want to spend a few weeks, a month, or even a summer hiking the Grand Canyon, wildlife watching in Denali, biking in Moab, shooting photos in Montana, fishing in Georgia, kayaking in Michigan, climbing in Yosemite, or just pondering nature then apply for a job as a campground host. It will make you one big happy camper. And bring your dog.
Quick Facts About Campground Host Jobs
Job Title: Campground Host, Workamper
Office: Campgrounds
Description: Greet guests, answer questions, perform routine maintenance and cleaning in exchange for a free campsite
Certifications/Education: No formal education required
Necessary Skills: Outgoing personality, friendly, knowledgeable
Potential Employers: Government or Privately owned campgrounds
Pay: Volunteer to $500 to $800 per month, Plus free place to camp
Helpful Campground Host Employment Links:
Search Campground Host and Other Host Jobs on JobMonkey
Recreation Resource Management
Workamper News
Volunteer.gov Search
Canvas Holidays (Jobs in Europe)
KOA Campgrounds
The Adventure of Campground Hosting – By Allen Storm