Crane Operator Jobs
Have you ever seen a building under construction? How about watching a massive tanker being unloaded? If you have, you probably have seen a crane operator manipulating a crane before your very eyes. A crane is not a bird, but is heavy equipment that uses mechanical advantages to lift multi-ton loads of cargo both horizontally and vertically.
Operating a crane is kind of like playing a real life video game, except you have no second chances. Crane operators use pedals, levers, buttons, dials, and switches to regulate speed, direction, and movement. A quality crane operator is an excellent judge of space and has amazing hand-eye coordination.
Crane operators are construction professionals. They work on building sites, construction projects, shipping and transport facilities, logging sites, mining plants, and demolition locations. See our rail yard crane operator job description as an example. A crane operator may operate a wrecking ball that destroys a building, reposition cargo of HD TVs on a train, lift steel to a 32nd story of a skyscraper, or load an 18-wheeler with logs. Every project is different, but one thing is the same, you'll be the person sitting behind the controls all day.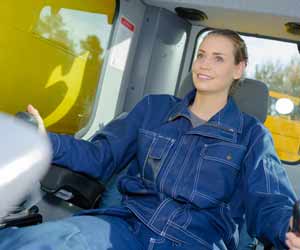 Working on a crane is interesting work. You may work high in a cab hundreds of feet above a worksite or on the back of a mobile crane fixing light posts. Either way, you'll be moving around some heavy loads – sometimes over 10 tons at a time! When moving and positioning big loads of steel, it doesn't take too much wind or poor guidance to knock you down. Some of the most important parts of the job are to ensure your crane is set up properly, to know the weather, and to know your crane's lifting capacity. This simple job can become dangerous quickly and accidents do happen so be sure you always have your hard hat on.
If you want to become a talented crane operator, you should plan to learn the trade by going to crane school – there are quite a few schools near you, just Google crane schools and your location. Organizations like the National Commission for the Certification of Crane Operators or the Crane Certification Association of America will help you achieve crane certification when you are ready. This requires both written and practical exams, with recertification occurring every 5 years.
Many jobs require that you apprentice with a group like the International Union of Operating Engineers or Associated General Contractors of America for at least 144 hours and have 3 years of training on the job. This ensures you have experience in crane operations, safety considerations, and any regulations. Some states even require a crane operating license.
Crane operators make good money. As a construction professional, they may be part of a union that guarantees their wages. They can plan on earning $13.75-$37.77 per hour, according to the Bureau of Labor Statistics. This means starting out you could make $28,600 and after gaining experience you could be making about $46,230 per year. The top 10 percent earn up to $78,550 per annum. That's good money for moving stuff around.
Cranes move stuff people could never consider doing by themselves. There are jobs all over the world for a crane operator. You may get to cause havoc with a wrecking ball, unload mysterious crates, lift port-a-potties off the ground, swing steel through the air for a building project, or lift beams to create an offshore oil rig.
Crane operator jobs are super fun. It's a job that will always be needed because big heavy things always need to be moved. Plus, the money isn't half bad for playing a real life video game.
Quick Facts About Operating Cranes
Job Title: Crane Operator
Office: Construction Sites, Shipping Yards
Description: Manipulates cranes to lift heavy objects and move them.
Certifications/Education: Certification and apprenticeship required. Union member.
Necessary Skills: Hand-eye coordination. Good eyesight. Judge space.
Potential Employers: Construction Sites, Shipping Yards. Demolition sites.
Pay: $13.75-$37.77 per hour plus overtime
Helpful Crane Operator Employment Links:
Search Crane Operator Jobs on JobMonkey
National Commission for the Certification of Crane Operators
National Association of Heavy Equipment Training Schools
Crane Certification Association of America
North American Crane Bureau
International Union of Operating Engineers
Associated General Contractors of America