Bomb Squad Jobs
Bombs are devices that release an extremely violent and sudden explosion that results in death and destruction. They are terribly scary. They are the things nightmares are made of. Luckily, we can rely on the fearless members of a bomb squad to help keep us safe.
Bomb squads, or bomb disposal units, consist of a team of highly trained bomb technicians. Their job is to respond to any bomb threat, then protect the public while they inspect, neutralize, transport, and destroy the bomb. Bomb squads save lives and they get to blow stuff up!
Bomb squads respond every time there is a bomb threat – a suspicious package near the Pentagon, an odd vehicle in a parking garage near the World Bank, an abandoned backpack at JFK airport, or a strange contraption at a Seattle Seahawks game. Most bomb threats are called in by the terrorist, a concerned citizen, or by a law-breaking prankster.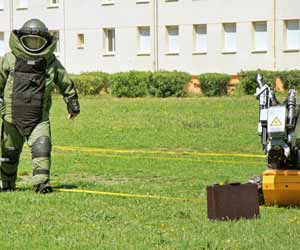 Bomb squads are on call 24 hours a day. They respond to bomb threats, suspicious packages, drug labs, and other explosive situations. First they evacuate innocent civilians near by. Next they assess the situation. They use equipment like bomb suits, mirrors, detectors, containment vehicles, trucks, robots, and even bomb sniffing dogs to manage the threat.
After a threat is established, the bomb squad works to defuse the bomb. This is a tricky task because bombs are like solving a deadly puzzle. It requires an abnormal ability to be cool under pressure. Regardless of the danger, the bomb must be neutralized. In the best case scenario, the bomb technician defuses the bomb or the bomb is a dud. If the bomb is too complicated to defuse, it has to be transported to a safe detonation zone using a containment vessel. Or in the worst situation possible, the bomb detonates.
Working with bombs is sketchy. At any moment, a bomb could explode and blow a bomb squad from here to Timbuktu. Bomb squads must be familiar with all types of bombs – pipe bombs, homemade bombs, or truck bombs. Bombs explode and bomb technicians risk their lives every time they approach one. It's their job to study bomb technology and trends in order to stay one step ahead of the criminals.
Finding work on an accredited bomb squad is difficult. Bomb squads are always part of military operations or law enforcement groups. To even apply for a bomb technician job, attendance at the US Army's Ordnance Munitions and Electronics Maintenance School (OMEMS) in Alabama is mandatory. Admissions are strict and limited. There are only about 450 OMEMS accredited bomb squads.
Bomb disposal is challenging and high profile.
OMEMS ensures that all bomb squads and bomb technicians are up to date on bomb disposal techniques, counterterrorism bomb training, suicide bombing attacks, large vehicle bombs, and weapons of mass destruction.
The ultimate goal of the bomb squad is to dispose of bombs. How a bomb squad goes about this depends on their agency, training, experience, location, size of the bomb, and the bomb's destructive potential. When all agencies are trained to the OMEMS standard, it is easier for them to work together for the public's safety.
Bomb squad work is risky. Every bomb technician must know that going to work means there is potential to be blown to smithereens. Pay depends on who you work for – Navy, FBI, local police, or other group. Generally bomb technicians make between $23,000 and $80,000 per year.
Bomb technicians work around the clock to keep the world safe. They do their best, but bombs can detonate at any time – making this job ridiculously dangerous.
Quick Facts About Bomb Disposal Jobs
Job Title: Bomb Technician, Bomb Disposal Unit
Office: Anywhere there is a bomb threat
Description: Inspect, neutralize, transport, and destroy bombs
Certifications/Education: Member of an accredited bomb squad, Complete OMEMS training
Necessary Skills: Cool under pressure, Willing to take risks
Potential Employers: Police Departments, FBI, Military, Fire Departments
Pay: $23,000 to $80,000 per year
Helpful Bomb Squad Employment Links:
Search Bomb Disposal Jobs on JobMonkey
Ordnance Munitions and Electronics Maintenance School
International Association of Bomb Technicians and Investigators
National Explosive Ordnance Disposal Association
ATF's U.S. Bomb Data Center