Czech Republic & Slovakia – Trains and Airports
Ruzyne airport outside of Prague will likely be your first stop if you choose to fly directly to the Czech Republic. Those who are traveling to Slovakia may consider flying into Vienna instead of Prague.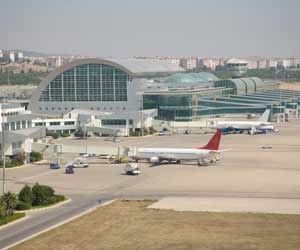 It's only thirty miles from Bratislava.
Airport
Ruzyne is small, immaculately clean, and easy to navigate. Only twelve or so miles from central Prague, it is easily and quickly reached by taxi or bus —the cheapest option.
Traveling by taxi from Ruzyne into Prague is often a greater challenge. The taxi stands at the airport are controlled by a syndicate of sorts, which means that you may have to pay a premium to get into the city. Buses, on the other hand, are remarkably cheap. You can take city bus 119 to the nearest Metro stop (Dejvicka Dejvicka on the green or A line), and then continue on the subway to your final destination. The cost is only 26 crowns.
Train Stations
If your final destination lies somewhere in Slovakia, then you will probably have to travel to Bratislava first. It is the main hub for all domestic train travel in the Slovak Republic. Because it also lies close to both Vienna and Budapest, it can be a pivot point for international travelers in Central and Eastern Europe. Its main train station lies outside the center of the city, but is connected to downtown Bratislava by several tram lines.
When you take the train to Prague, you will likely arrive at Hlavni Nadrazi, the main train station which also houses a centrally located (red or C line) Metro stop of the same name. Some international trains terminate their service to Prague at Holesovice, another of Prague's larger train stations (and also a Metro stop on the same line as the main station). With the steady influx of tourists since the early 1990s, the incidence of theft on trains and at the stations has also risen significantly, so be careful.
Because all of the train stations that handle international trains are located on metro lines, it's both inexpensive and convenient to reach your final destination. You probably won't even have to bother with a taxi, unless you prefer to be driven directly to a particular doorstep.