Traveling to the Czech Republic and Slovakia
Getting to Prague or Bratislava is generally inexpensive, depending on your mode of travel.
Via Airplane
Flying directly into Prague or Bratislava from the US is no longer as expensive as it used to be. But it is still a better idea to break your journey somewhere in the UK, for example in London or Dublin, which are both hubs for amazingly cheap low budget airlines like easyjet and Aer Lingus, respectively, that fly into Prague and Bratislava.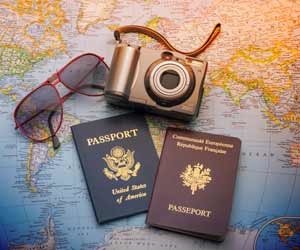 Most international flights land at Prague's Ruzyne Airport (roughly twelve miles northwest of the city) before continuing on to points further east, including Bratislava and other destinations in Slovakia. Several international airlines fly directly to Vienna (only 50 kilometers from Bratislava) and then continue to Bratislava by train or bus. This is usually not quite the best and cheapest way to get to Slovakia, however.
From the centrally located capital city, you can reach your intended stop by train or bus. Prague is accessible from most major cities in Western Europe or by flights that originate in the United States. You can fly direct to Prague from New York City on Czech Airlines, and Western airlines (Air France, British Airways, KLM, Lufthansa, SAS, Sabena) also have service to Prague from points in Western Europe or the United States. Consult a travel agent or check airline and travel websites for detailed information.
Via Train or Bus
As with other destinations in Central and Eastern Europe, travelers often choose to fly into an airport in a major Western European city, then continue by train or bus to their final destination in the Czech Republic or Slovakia. This method of combining air and overland travel is popular among those who have few time constraints because it affords an opportunity to see more of Europe as a whole.
Certain train and bus fares allow a traveler to stop along the way, provided that travel continues in the same direction as the train or bus route.
International train and bus routes that originate in Western Europe are not cheap, so you should calculate the cost of your combined air and overland fares in order to compare them with the air fare that will take you directly to your destination. Of course, your final choice will depend upon your priorities. Trains and buses generally give you greater flexibility, while allowing you to sightsee along the way. For example, you can often find cheaper airfare flying into Dresden, Germany, from where a 10-dollar bus ride to Prague takes only 3 hours. Check out the popular Student Agency website, studentagency.cz, for their great deals on bus and airfare into and out of the Czech Republic.
Because train and bus travel is usually less expensive than flying, more budget-conscious young people, both expats and Europeans, opt for the tracks and the highways, so you'll have a better chance of meeting young people who are perhaps of a similar bent.