Local Transportation in the Czech Republic or Slovakia
Of the four countries in Eastern Europe that we cover, the Czech Republic boasts the best local transportation systems. Prague's Soviet-built metro is clean, efficient, and well-planned (a rare testament to the success of the old regime).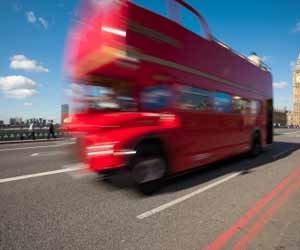 Combined with an extensive bus and tram system and pedestrian friendly streets, it's very easy to get around Prague without an automobile. Be aware, though, that this ease and efficiency brings considerable crowding, especially during rush hours.
None of the other major cities of the Czech Republic or Slovakia, including Bratislava, have subway systems. There are, however, extensive bus, tram, and trolley lines to help you get across town.
If you plan to use public transportation regularly, you should check into getting a monthly pass, trimonthly, or even annual. You will save money and time, and you won't have to worry about getting "controlled" by a transit officer (controller) without the proper pass or ticket.
Metro
Prague's three metro lines (green-A, yellow-B, red-C) crisscross the city and divide it into roughly equal parts. If you combine a metro ride with either tram or bus travel, it's cheap and easy to get to almost any part of the city. Metro trains run from five in the morning until midnight, so don't stay out late unless you don't mind getting home by night tram or bus (both of which run in 30, 45 or even 60 minute intervals at night), or taxi.
Metro tickets can be purchased individually from vending machines or ticket windows located in every station. Unless you carry a monthly pass, make sure you validate your ticket in the yellow machines before you enter the platform areas. If you're caught without a valid ticket by a controller you will be fined the equivalent of about fifty dollars, a hefty amount, especially when a single ticket costs only about $1.50 (actual cost is 26 Kc for a 90 minute ticket).
Trams
Trams help make commuting easy while lending charm to the cities of Europe.
Both Prague and Bratislava have extensive tram networks that compliment their other forms of public transportation. As with metros and buses, trams require a valid ticket for each ride. Ticket validators on trams are usually located just inside the tram doors, on the posts that support the hand rails.
Most of the cities in Slovakia and the Czech Republic that offer tram service utilize the same tickets for all modes of public transportation. Trams usually run twenty-four hours in the larger cities, though their night runs may be less frequent and less extensive.
Buses
Buses are the backbone of all public transportation systems in the smaller towns and cities of both republics. In the larger cities, they complement metro and tram lines by radiating outward from the tram and metro stops to smaller and more obscure destinations in the outlying areas.
Depending on where you are, buses may run twenty-four hours a day. Like trams, they usually run at a reduced frequency after 11pm or midnight. Be sure to confirm which bus lines operate at night. The nocturnal routes will usually bear different numbers than the same daytime lines. Some night buses operate on a smaller segment of the route than during daytime.
Unlike trams, buses provide service from the transportation hubs in the larger cities to smaller towns and rural areas. The further you get from the more heavily populated areas, the more you will need to rely on buses. You won't be alone. Intercity or otherwise, buses are often cramped and crowded so make sure to make reservations whenever possible.
In general, intercity and other domestic bus fares are either comparable or somewhat more expensive than rail fares. It's generally a toss-up whether buses are more comfortable than trains or vice versa. Trains give you the option of getting up and moving around whenever you want, while buses usually make stops on longer trips so you can stretch, use the restroom, smoke a cigarette, or gobble a snack.
Taxis
All over Central and Eastern Europe, taxi drivers are notorious for overcharging unsuspecting foreigners. The larger cities of the Czech Republic are no exception, particularly in Prague. As a general rule, settle on a price before you get into a cab. If the driver tries to ream you, you can turn him down with a polite "no thank you." Once you board the cab, the ball is in the driver's court. So make sure the meter is in operation. If you can, chat with the driver a bit and try a little Czech on him if you know any. Show him that you know where you're going. Act as though you've been through it before so he'll be less inclined to try to bilk you for more money.
Domestic Trains
Prague, Plzen, and Brno are the main rail hubs in the Czech Republic. In Slovakia, Bratislava and Kosice are the primary rail crossroads.
Both countries railways systems offer two types of trains: rychlík (express train) or osobny vlak (local train). Local trains are notoriously slow, so avoid them whenever possible unless you want to stop at every station in the Czech or Slovak countryside.