Jobs with Chesapeake Energy
Chesapeake Energy has been in business since 1989. The head office is located in Oklahoma City. From its modest beginning of $50,000 in start-up capital and 10 employees, it has grown into the largest independent natural gas producer in the United States. Chesapeake Energy's main focus is to find and develop onshore natural gas reserves throughout the country.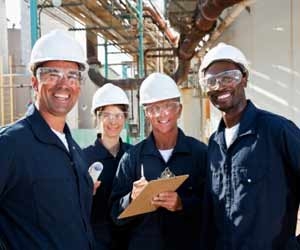 Fortune's 100 Best Places to Work
Chesapeake Energy has been named to Fortune magazine's "100 Best Places to Work For.". Employees from around the country participated in a survey to share their impressions of the respect they are shown on the job and the fairness of company policies. The company's management, compensation, and benefits policies are also considered when determining which ones will make the list.
Working at Chesapeake Energy
Along with modern facilities and generous compensation, workers at Chesapeake Energy are entitled to the following benefits:
Blue Room Theater (for company meetings and movie nights)
Compensation review twice per year
Gourmet restaurants on site (3 locations)
Fitness center (including quarter-mile walking track)
Long term disability coverage
On-site medical and dental center
Paid vacation time
Sick leave/Personal leave
Short term disability insurance
Stock grants
Jobs at Chesapeake Energy
Here are some examples of the kinds of jobs available at Chesapeake Energy:
Accountant
Administrative Assistant
Applications Developer
Business Analyst
Construction Foreman
Compressor and Automobile Shop Painter
Diesel Engine Technician
Federal Tax Supervisor
Field Employee Relations Specialist
Field Representative
Heavy Equipment Operator
Line Locator
Measurement and Controls Technician
Meter Technician
Operations Manager
Rig Electrician
On-Campus Recruiting
Chesapeake Energy holds recruiting sessions on colleges campuses each year. Students enrolled in these programs may be interested in employment opportunities at Chesapeake:
Accounting
Chemical/Mechanical Engineering
Geosciences and Energy Management
Information Technology
Law
Restaurant Management
How to Get a Job with Chesapeake Energy
The company posts available positions and you can find them here.