Other Oil Pipeline Jobs
Pipeline operators hire for a wide array of jobs, from pipeliners and line walkers to welders, heavy equipment operators and project managers. Here's a sampling of pipeline jobs for which the companies may be hiring at any given time:
Pipelaying Fitters
Align pipeline section in preparation of welding. Signal tractor driver for placement of pipeline sections in proper alignment. Insert steel spacer.
Pipe Inspector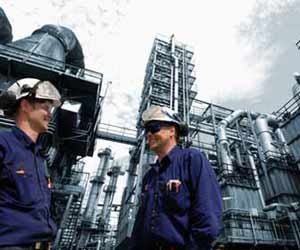 Inspects steel tubing, casing, drill pipe, and other tubular oil well equipment for defects, using magnetic and optical inspection equipment. Positions scanner (ring-shaped object containing induction coils) around pipe and connects wire to automatic graph recorder. Presses switch to start self-propelled scanner along pipe length and observes lines on graph that indicate location, type, and extent of metal blemishes, cracks, and molecular weakness. Inspects interior of pipe for surface imperfections, using optical instrument. Reports findings to engineering personnel.
Pipeline Supervisor
Supervises and coordinates activities of workers engaged in operating digging and pipelaying machines and in installation of pipe, pumps, valves, and meters to construct and maintain pipelines. Performs other duties that supervisors in any industry would do. May be designated according to work location as Oil-Field Pipeline Supervisor.
Oil Pipeline Chief Engineer
Directs activities of workers in engineering department of petroleum production or pipeline company and advises management on engineering problems. Apportions work among engineering staff according to specialized training. Reviews engineering designs for neatness and accuracy. Directs engineering personnel in formulating plans, designs, cost estimates, and specifications for oil field or pipeline construction, maintenance, and modernization programs. Supervises engineering office workers computing operating budgets, compiling reports, and conducting special investigations and studies to evaluate efficiency of engineering programs. May apply knowledge of petroleum engineering to coordinate work of engineers engaged in solving problems concerned with environment.