Oil Rig Jobs on Television
At one time, if you had cable television, you could tune in to the Discovery Channel for Oil, Sweat, and Rigs. It told the story of a massive industry recovery effort in the aftermath of Hurricane Katrina in the Gulf of Mexico. Hundreds of oil platforms, pipelines, and refineries were destroyed or badly damaged. You might be able to find episodes of this show online. The show was similar in style to the wildly popular, Deadliest Catch, about crab fishing in Alaska's Bering Sea.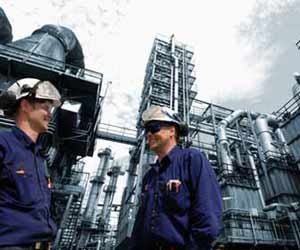 Watching the show, if you can find it, you'll get an idea of what kinds of jobs exist on an offshore oil rig. You get to see 'greenhorns' — industry newcomers — being trained and in action, divers doing salvage work, the process of getting the oil pumping, the technology involved, and a lot more. Each episode put amazing industry technology on display as well as science, and there's no shortage human drama. The workers are often stretched to their physical max with the work and in tough weather conditions while working these oil rig jobs.
Here's a rundown of the first season's episodes, which you can find online (if you dig around!):
Salvaging the Rig
The Witch Queen and the Abyss
Hurricane-Proof Anchors
MARS: Getting the Oil Pumping
Saving MARS
The Road to Recovery
The Discovery Channel often makes its shows available on DVD a short while after the series ends. The first season of Deadliest Catch came out on DVD pretty quickly after the season ended.