Chevron Company Jobs
The Chevron Corporation is one of the United States' largest oil companies. Like most oil corporations, Chevron's roots can be traced back to the late 19th century, which includes several mergers that have propelled Chevron into the petroleum giant role that the company enjoys today.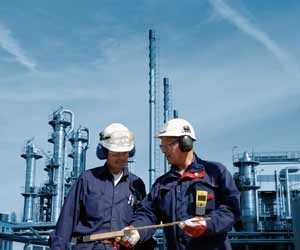 Being a very large company, Chevron is always looking for people to fill open positions – both in the U.S. and abroad in countries such as Saudi Arabia, the United Kingdom, and Nigeria. Chevron jobs are open to experienced professionals, recent college graduates, as well as students seeking oil industry internships. Chevron offers excellent benefits such as a retirement plan, health insurance, and vacation time off. At Chevron, they emphasize career growth including the opportunity to move within the company.
The Chevron job board includes information about the company, their mission statement, and the ability to search for open jobs at Chevron locations around the world.
History of Chevron
The Chevron Corporation's beginnings can be traced back to California in 1879, where oil was discovered north of Los Angeles at Pico Canyon. These discoveries initiated the formation of the Pacific Coast Oil Company. This company later became Standard Oil of California and was eventually renamed the Chevron Corporation.
Meanwhile, in Beaumont, Texas the Texas Fuel Company was formed in 1901. Two years later in 1903, the company began producing kerosene on 40 acres of land in Port Arthur, Texas, where the company was ale to produce 318,364 barrels of oil in its first year . The company was eventually renamed The Texas Company, which was eventually shortened to Texaco in 1959. Texaco, which was then called The Texas Company, opened its first filling station in 1911 on a street corner in Brooklyn, New York to sell automobile gasoline. It wasn't until nearly 100 years later that Texaco and Chevron emerged to become ChevronTexaco. The name was changed again some years ago, and today the company is simple known as The Chevron Corporation.
Company Operations
The company's figures for oil and natural gas production are staggering. Chevron Corporation employs approximately 62,000 people, and it processes more than 2 million barrels of crude oil per day while selling, on average, approximately 4 million barrels of refined product per day.
The company's major areas of operation are in Asia, sub-Saharan Africa, the U.S. Gulf Coast and the U.S. West Coast. The company holds interests in fuel refineries and also has a market presence in 175 countries. Chevron owns approximately 25,000 retail stations around the world, including more than 1,500 Texaco stations still doing business in states around the Union.
Visit the Chevron job and careers page to learn more about the company and their current job openings.
Chevron Employer Information