Motorhand (or Motorman) Job Description
As the job title implies, the primary responsibilities of the oil rig motorhand (or motorman) are to keep the engines that power the drilling equipment and some of the other rig equipment working smoothly. For example, engines are used to lift drilling pipe, turn the rotary table that turns the drill bit, and for mixing and circulating drilling fluid like mud.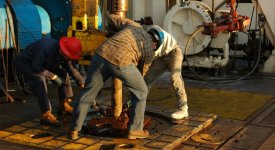 Equipment varies somewhat from rig to rig, but generally speaking a rig has a combination of diesel and electric engines. Motorhands spend most of their time on the engines but also:
Train roustabouts and roughnecks
Assist other oil rig crew as necessary
Maintain and lubricate machinery to keep it running efficiently
Assess tongs that help connect and disconnect drill pipe and spinning chain
Work with the rig's boilers
Regularly test equipment for operability and safety
Order tools and replacement parts
Motorhand Requirements
This job is very appealing for people who love and have a knack for mechanics. You also need to be a team player who possesses great physical stamina and an eye for detail.
The lower level roustabouts and roughnecks may be promoted to this position eventually. As with any other position on the rig, motorhands must be able to work fast and efficiently yet safely and within company and industry guidelines.
Having safety and first aid certifications may be required in order to get motorhand jobs. More importantly, however, you'll probably need experience working on an oil rig before grabbing this type of job.
Pay Information
Pay usually exceeds $20 per hour and increases based on experience and training. If working in a remote location there may be an additional allowance for living expenses.