Turo Car Sharing
List Your Car For Rent With Turo
Cars are everywhere, but they aren't always in use. That's why Turo helps connect private car owners with keen car renters in a mobile carsharing marketplace. Do you take advantage of Turo?
Turo gives car owners the ability to rent out their cars when they are not in use. This simple shared economy business has created a nationwide community of car owners who want to make money by renting their cars to qualified strangers. With Turo, affordable vehicles are available to all. This is what the shared economy is all about.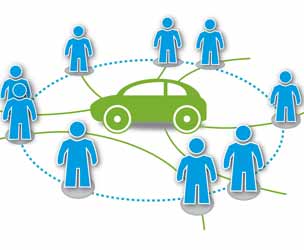 Turo originally focused on short term, hourly car rentals, but now specializes in multi-day car rentals. The public has been quick to embrace Turo as this company oozes with benefits for the community. Not only does Turo make listing and renting cars easy, it also helps to save the planet, build a community, and save everyone money. It's the perfect money-making venture where every party is happy.
The company was originally called RelayRides and was founded by Shelby Clark in 2010. That year it was launched in Boston, Massachusetts. In 2012, the company launched nationwide. In November of 2015, RelayRides rebranded as Turo. Now the business is based in San Francisco, California and has cars for rent in nearly 2,500 cities and at 300 airports – and it's still growing. The company has received tens of millions of dollars in funding and the future looks bright for Turo.
To list your car for rent via Turo, sign up online. List your vehicle's photos and details, set the vehicle's availability dates and rates, and note its location. If Turo accepts your registered vehicle, you're good to go. When someone requests to rent your vehicle, you have eight hours to respond, accept, and coordinate with that renter. As long as your car is rented, you'll make money – about 75% of the rental revenue.
To rent a car via Turo, you have to sign up online and supply your DMV driving record. Then you can choose from a wide variety of cars. There are luxury cars, traditional cars, and everything in between. Once you select and book a vehicle for a minimum of three days, you can pick it up or have it delivered for a fee. Then just sit back, enjoy the ride, and go on an adventure. The only other thing you have to do is return the car.
Turo collects a 25% fee from every rental transaction. They also provide a $1,000,000 liability insurance for every renter, run background checks, and qualify both vehicles and renters. They also handle and process all payments and claims.
If you have a vehicle, you should list it for rent on Turo because you can make decent money without much effort. The rental rates depend on your vehicle's market value, location, availability, your responsiveness, delivery options, and vehicle demand.
Turo provides a calculator on their website where you can calculate how much money you can make in a year with Turo based on the market value of your car and the days per month your car is rented. For an example, a $12,000 car that is rented for 10 days per month can earn $3,265 per year. That's a nice way to cover some of the costs of car ownership!
Whether you live in San Francisco, Chicago, Denver, Austin, Boston, Honolulu, Portland, or thousands of others cities across the United States, Turo is there for all of your car listing and car renting needs. It's never been so simple to make money as a car owner. Join Turo today and put your car to work for you.
Quick Facts About Turo
Year Founded: 2010
Year Launched Nationwide: 2012
Headquarters: San Francisco, California
Description: Provides peer-to-peer carsharing services for multi-day rentals
Requirements: Background checks, Car insurance
Pay: 75% of rental rate (Turo provides a free online calculator that predicts income based on vehicle's market value and days per month the car is rented)
Helpful Turo Links: