Context Travel Educational Tour Jobs
Lead Walking Seminars As A Docent With Context Travel
Are you bored of the mainstream tourist attractions? Are you ready to get off the beaten path, escape the tourist traps, and experience true culture? It's time to sign up for a Context Travel walk. This is a game-changer for any smart traveler.
Context Travel connects local scholars and specialists with intellectually curious travelers for small group and private walking seminars in cultural destinations. The goal of Context Travel is to educate and inspire travelers by helping them experience culture that they wouldn't see on the standard tourist routes.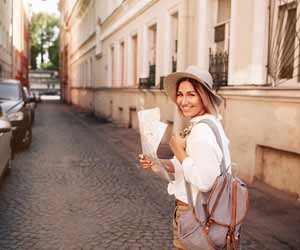 Travelers can browse different seminars by date and location at ContextTravel.com. Some example seminars include – Ottoman Architecture: Istanbul's Magnificent Mosques, The Birth of Bossa Nova in Rio de Janeiro, Bangkok Buzz, Street Food and Night Markets, or Boston's Big Dig: Transforming A Cityscape. It's fascinating stuff taught by scholarly experts.
Once the traveler selects the perfect walk for them, they can book the Context Travel walking seminar online. On the date of the walk, the traveler meets the Docent in a pre-determined place. During the seminar, the Docent shares their knowledge so that the traveler can experience a new culture through the eyes of a passionate scholar.
Context Travel uses the term Docent instead of tour guide. Docent is a museum term that comes from the Latin word to teach. Context Travel prides themselves on their high quality "docents" who are excellent teachers, storytellers, researchers, and intellectuals who provide a more vibrant experience and truly bring the culture to life in ways that a normal tour guide never could. It's a unique approach to tourism and people love it.
Perpetual travelers Paul Bennett and Lani Bevacqua founded Context Travel in 2002. The company is based in Philadelphia, Pennsylvania, but works with a huge network of well over 1000 scholars and specialists in over 40 cities scattered across Europe, Asia, South America, and North America. The company is doing well and is actively seeking Docents, staff, and interns via their website.
It's no easy task to become a Docent for Context Travel. All of the scholars and specialists must have a Ph.D. or MA in a scholarly field of study. Every Docent must reside in the city of work for at least six months. Context Travel requests that anyone interested in becoming a Docent submit their CV with a cover letter noting their areas of expertise via email.
If Context Travel selects you to become a Docent you can begin to lead small group with a maximum of six and/or private walking seminars. These walks go out daily and are custom catered to the guest's interests and learning styles. All Docents are subject matter experts who can discuss topics conversationally with any guest. There are no scripts involved.
No matter what your area of expertise is – Galileo, Notre Dame, Wine Tasting, Italian Architecture, art museums, Argentine music – there are plenty of intellectually curious travelers who want to experience these things from someone like you. These scholarly walking tours typically run a few hours and cost anywhere from $80 per person to a few hundred dollars for a private group.
It's hard to nail down exactly how much Docents make for leading a walking seminar. It's probable that they make a percentage of the total cost of each walk and that Context Travel takes a commission from each tour. You'll have to apply to be a Docent with Context Travel to find out.
Being a Docent for Context Travel is an ideal job for any true scholar who wants to share their passion and knowledge on topics such as art history, archaeology, fashion, wine, cuisine, architecture, environmental science, classical studies, history, or theology. This job allows these scholars to balance their time teaching, researching, writing, studying, and enjoying life with earning a bit of income. It's a flexible job where you get to share the things you love with others. What could be better than that?
If you are qualified to become a Docent for Context Travel, sign up today. It's the perfect way to share your in-depth knowledge of your favorite subjects, meet new people, and make money. Are you ready to apply?
Quick Facts About Context Travel
Year Founded: 2002
Headquarters: Philadelphia, Pennsylvania
Description: Connects local scholars and specialists with intellectually curious travelers for small group and private walking seminars in cultural destinations
Docent Requirements: Ph.D. or MA in scholarly field of study
Pay: Depends on location and number of walks lead
Helpful Context Travel Links: