Verblio (formerly BlogMutt)
Get Paid To Write Blog Posts With Verblio
UPDATE: October 2018 – BlogMutt relaunches as Verblio
"Offering an expanded array of written content solutions and a new AI-based video creation service, BlogMutt, a high-growth business focused on blog services, has completed its transformation into multimedia content creation company Verblio." Press Release
Freelance writing offers a flexible lifestyle and the ability to work from anywhere in the world. It's almost perfect, except that finding reliable freelance writing jobs is not as easy as it sounds. Until now.
Verblio connects growing businesses with US-based freelance writers who write original, creative, and fresh blog posts. This Internet-based blog writing service helps businesses from any industry tap into the world of blogging and take advantage of content marketing.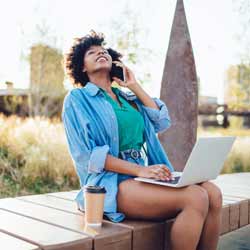 Scott Yates and Wade Green founded BlogMutt in 2011. Based in Boulder, Colorado, Verblio (formerly BlogMutt) is a reputable way for freelance writers to earn money online. By crowdsourcing blog content, Verblio has built a solid business that is thriving. It's a fantastic way for businesses and agencies to grow and expand at an affordable monthly rate. For freelance writers, it's the perfect way to find legitimate writing work online. Everyone comes out ahead with Verblio.
Blogs help companies build custom content that drives interest and demand. Quality blogging can boost SEO, drive web traffic, and increase conversions. This will ultimately increase sales and boost a company's profits and visibility. Every company wants a healthy and engaging blog, but blogging is demanding. Businesses may not have the time, resources, or expertise to write regular, fresh, and engaging blog posts. This is where Verblio comes in.
As a writer for Verblio, you get to write blog posts in the niches where you're a subject matter expert. Entrepreneurs, retailers, large corporations, mom and pop shops, and start-ups need to capture their audience with engaging and original content. Blogs cover nearly every topic imaginable – pets, tourism, real estate, finance, charity, life coaching, insurance, yoga, automotive, and the list goes on. There is a constant demand for original content in nearly every niche. Verblio brings the customers and all you have to do is write. It's simple.
Freelance writers based in the United States can sign up online to write for Verblio. Verblio claims to have a 90% acceptance rate! After passing a writing test, a writer builds their profile and starts writing. Every blog post is written with a certain company in mind. If the business likes what you wrote, then they get to use it on their blog and Verblio will pay you.
The more you write, the more money you will make. You can choose to write when you want and for whom you want. As long as your articles are well written, original, and informative, your posts will be chosen and published on the World Wide Web. If they aren't chosen, they stay in the system and may be chosen in the future. Businesses can also ask you to edit posts before they publish your work.
Verblio only pays for posts that businesses select and publish. They pay $8 per 250+ word blog post. For every post that is picked you gain points. Points give you access to higher-paying and longer blog posts. Build your Verblio business and you'll have the opportunity to write 600+ words for $19, 900+ words for $40, or 1200+ for $72. It adds up quickly!
As you continue to grow your Verblio freelance writing business, your Verblio points will start to stack up. If you make enough points, you will become a "co-owner" and be given stock in the company. There aren't many (if any) blog writing services that offer that.
As a writer for Verblio, it's your responsibility to send in an invoice every week. Invoices are paid every Monday through PayPal. There are no fees charged to writers. There are no deadlines and no assignments. Writing for Verblio is essentially like running your own freelance writing business.
Verblio works with both businesses and freelance writers to make the world of blogging a better place. If you have a knack at writing quality blog posts, give Verblio a try. It's a fantastic way to build your freelance writing business.
Quick Facts About Verblio
Year Founded: 2011
Headquarters: Boulder, Colorado
Description: Connects businesses with freelance writers who write quality blog posts
Freelance Writer Requirements: Apply online, 90% Acceptance Rate
Pay: Starts at $8 per 250+ word blog post
Helpful Verblio Links: