Wag Dog Walking Jobs
Find Dog Walking Jobs with Wag
Does your dog need a walk? Is it hard to find time in your busy schedule to give your furry friend the outside time that they deserve? Download the Wag app for your dog and you can schedule leashed walks for your dogs from your smartphone.
Wag is a shared economy company that specializes in connecting busy dog owners with trusted and insured dog walkers for friendly neighborhood walks. This on-demand, app-based dog walking service is the best way for dog owners to give their dogs the walks that they deserve. Plus, dog lovers get to earn money hanging out with dogs. It's a fun business model.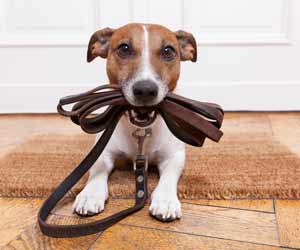 Joshua Viner and Jason Meltzer founded Wag in 2015. Based in Los Angeles, California, Wag operates in major metropolitan areas like Los Angeles, San Francisco, New York City, Chicago, and Seattle. With millions of dogs scattered across the United States, Wag is looking to expand their dog walking services nationwide in the near future.
Wag operates on the shared economy business model. Dog owners can schedule on-demand or scheduled dog walks for their dogs. Dog walkers have a flexible job where they get paid to be active and hang out with dogs. Wag takes a commission from each transaction to cover the costs of infrastructure, logistics, and technology. Everyone comes out ahead with Wag.
Let's take a look at how Wag works. When a dog owner is stuck in traffic, running late at the office, or is unable to walk their dog, they open up the Wag app on iOS devices. They can make a request for a dog walker in their neighborhood between the hours of 7 AM and 11 PM. For peace of mind, dog owners can also schedule a free "Meet and Greet" where they can meet the dog walkers in person before they turn over man's best friend to a stranger.
A dog walker can accept the request via the app if they are available and eager to make money. Wag supplies secure lockboxes to allow the dog walker to enter the owner's home to get the dog. Then it's time for the fun part – the dog walk.
Owners can track the leashed dog walk via GPS through the app in real-time. This allows them to see the route, time, distance, and location. They also have the ability to contact the dog walker at any time. Once the dog walk is completed and the dog is safely back home, the dog walker sends a doggie report card to the owner.
The doggie report card includes a photo from the walk, notes on the dogs behavior, distance traveled, time walked, and a bathroom update. The dog owner can then rate the dog walker and make plans to schedule recurring walks if they choose.
To become a dog walker with Wag, apply online. You have to fill out a job application that asks for basic information, availability, social media links, experience, etc. All aspiring dog walkers must pass a background check and Wag certification before they can become a Wag dog walker.
As a Wag walker, you can choose when you want to work – just check the app to see what dog walking opportunities are available. The more you walk, the more you get paid.
Wag helps you build your dog walking business, have a flexible schedule, and become the best part of every dog's day. This job is one of the best ways to burn extra calories, be active, work outside, and work with dogs.
Wag costs dog owners $20 for a 30-minute walk or $30 for an hour walk. There's an additional fee of $5 for additional dogs in the same household. Wag takes a fee from each transaction. Dog walkers can make about $10 to $12 per hour. Not bad for a healthy, active, flexible gig.
Wag makes it easy to be a dog owner. They make it even easier to be a successful dog walker. If you're a dog lover, sign up for Wag today. Are you ready to get paid to hang out with dogs? We thought so.
Quick Facts About Wag
Year Founded: 2015
Headquarters: Los Angeles, California
Description: Connects busy dog owners with trusted and insured dog walkers for friendly neighborhood walks
Dog Walker Requirements: Background Check, Online Application, Wag Certification, iOS Device
Pay: $12 per hour on average
Helpful Wag Employment Links: