Traveling Spoon Meal Hosting Jobs
Formerly MealSharing.com
Make Money Hosting Meals In Your Home With Traveling Spoon
Are you craving a home-cooked meal? No matter where you are in the world, Traveling Spoon can help you find a tasty meal created by a friendly cook in their home kitchen. Pretty cool, right?
Traveling Spoon connects home cooks with hungry people. By playing matchmaker for hosts and guests, Traveling Spoon brings people together to build communities, share resources, promote healthier lifestyles, and to increase cultural understanding. And guess what? This shared economy company is thriving.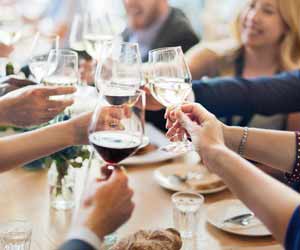 Let's take a look at how Traveling Spoon works:
Aspiring Traveling Spoon hosts sign up online and post the meal that they want to serve. They set the price, date, time, number of guests, location, and the menu. Once the meal is posted, hungry diners, aka guests, can find the meal on TravelingSpoon.com. Those guests can search for home-cooked meals based on location, meal type, or food preference. Diners can find just about any type of meal imaginable – dinners, potlucks, cocktail parties, breakfasts, late-night snacks, and more.
Once the guest selects their dining experience, they book and pay for it online. Then the guest shows up, the host cooks the meal, and the guests mingle and network. Everyone gets to meet new people, enjoy delicious food, and be a part of the Traveling Spoon community. It's a dining experience that everyone will enjoy.
Traveling Spoon hosts are paid at least 8 hours prior to the experience they host. This allows you to buy food and beverages necessary to offer your experience.
Traveling Spoon isn't all about making money. It's about being able to use technology to help you find a home-cooked meal anywhere in the world. It's appealing to both travelers and locals alike. There's something special about bonding with people over a tasty meal in the comfort of someone's home. That's why Aashi Vel and Steph Lawrence founded Traveling Spoon.
In 2007, Steph traveled to China for the first time. After 2 1/2 weeks in the country, she was struck by how little she had connected with the local food and culture. Spending weeks traveling by tour bus from silk factory to hotel banquet hall where she ate with other tourists, she realized she didn't connect with the local culture at all. She decided to move to China in 2009 to learn the language and explore the culture through its food – she wanted to learn to make dumplings from a Chinese grandmother. But when she moved there, she found there was nothing out there to help her find the experiences she sought.
In 2011, Aashi traveled to Mexico, and had a similar problem discovering the local food and culture. She scoured review websites trying to find the most authentic food and the least touristy restaurants she could. On her way to another overly-crowded tourist spot, she saw through a window a woman in her kitchen, making dinner. That was where she wanted to be eating dinner, sharing a homemade meal with this local Mexican woman, hearing her stories and learning about her culture.
When Aashi and Steph met at business school in 2011, these experiences had never left them. Both of them believed in the power of travel to make the world a smaller, better place, and wanted to help travelers experience authentic, meaningful, and delicious travel experiences around the world. They started working on Traveling Spoon in all their MBA classes, launched the company after graduating in 2013, and haven't looked back since.
To become a Traveling Spoon home cook who hosts others in their home, create your first meal online. Every meal has its own webpage that includes all the details about the dining experience – maps, amenities, dates, availability, price, booking information, etc.
Provide all of the necessary information so that diners can find your meal and book it. As soon as guests sign up for your meal, you'll be one step closer to earning your first paycheck through Traveling Spoon.
Traveling Spoon makes it easy for people to make money, make friends, and enjoy food. Take advantage of this unique opportunity and help to make the world a better place, one meal at a time. Are you ready to be a part of this global meal-sharing community? We thought so.
Quick Facts About Traveling Spoon
Year Founded: 2013
Headquarters: San Francisco, CA
Description: Connects home cooks with hungry people to build community, share resources, promote healthier lifestyles, and to increase cultural understanding
Host Requirements: Sign Up Online
Helpful Traveling Spoon Links: