Instacart Shopper Jobs
Everybody needs groceries, but the logistics of regular and last minute grocery shopping can be a headache. Imagine ordering a week's worth of groceries during your morning commute and having them delivered to your door by a smiling personal shopper. Wouldn't that be amazing? That's the exact service that Instacart delivers.
Instacart is an Internet based, on-demand grocery delivery service. Based on the shared economy model, Instacart connects customers with personal shoppers who shop and deliver grocery and home essential items to their door. With Instacart you can get dog food, salsa, deodorant, bananas, walnuts, steaks, peppers, cereal, soda, or even frozen pizza delivered in under an hour in almost every major metropolitan area in North America.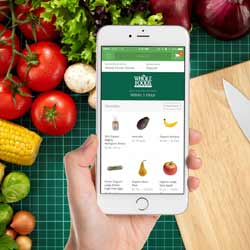 Apoorva Mehta, Max Mullen, and Brandon Leonardo founded Instacart in 2012. The company is based in San Francisco, California along with countless other shared economy businesses. Valued at approximately $2 billion, there is a steady stream of keen investors who are excited to see what the future holds and where Instacart will expand to next.
Instacart truly creates a magical shopping experience. Customers can choose to shop at a variety of stores including Whole Foods Market, Safeway, Target, Costco, Petco, and other grocery and home essential retailers. They then use an iOS or Android mobile device or the trusty old website to create an order from hundreds of thousands of items – whatever you want, you can order it. Instacart is convenient, hassle free, and saves you time.
Beyond basic grocery shopping, Instacart provides a better shopping experience. It offers features like favorite item lists, recipe checklists, and even a annual membership for discounted rates. These features help to make Instacart more user friendly and cost efficient. Orders can be placed on-demand or scheduled for convenience. Payments are completely managed via the Instacart website and app making the entire grocery buying process essentially effortless.
The luxury and convenience of grocery delivery is understandably popular. Instacart handles countless orders daily. To meet demand, the company hires a crew of dedicated, flexible workers. For every order, a personal shopper wanders the store and hand selects every item on a customer's list. They scan the item using their smartphone, check out and pay for the items, and deliver them. It's a smooth process from beginning to end.
If you want to work for Instacart, see what opportunities exist in your area. Depending on where you live, you could land a gig as a:
In-Store Shopper – No vehicle is necessary for this part-time job where you are stationed at a designated store and shop for customers all day.
Cashier – This is a part-time position at a designated store where you work with an in-store shopper to check out, bag, and prepare orders for delivery.
Delivery Driver – These independent contractors drive their own vehicles and use mobile devices to assist with the delivery of groceries.
Full Service Shopper – This is the perfect position for a driven independent contractor. They do it all – accept orders, shop, and deliver groceries.
For people looking for flexible work where they are their own boss, being a personal shopper is pretty much the perfect gig. Where else can you get paid to shop? To become an Instacart shopper, you have to apply online via the Instacart website. Instacart will perform a background check and then schedule an interview and training session. Once this is complete, turn on the app, set your own schedule, and start shopping for and delivering groceries.
The more shopping you do, the more money you make. For every completed delivery, the profit is split fairly between Instacart and the shopper. Instacart shoppers can make up to $20 per hour, plus tips.
Can you name any other jobs where you can you set your own hours and escape the traditional 9 to 5 office lifestyle? There aren't many. Are you ready to join the shared economy revolution and become an Instacart shopper? It may be the best thing you ever you.
Quick Facts About Instacart
Year Founded: 2012
Headquarters: San Francisco, California
Description: Internet based, on-demand grocery and home essentials delivery service
Shopper Requirements: Online application, Background Check, Vehicle, Customer Service Attitude
Pay: Up to $20 per hour PLUS tips
Helpful Instacart Links: