Guru Freelance Jobs
Become A Freelance Guru At Guru.com
Are you an aspiring freelancer? Do you want access to millions of job listings that allow you to work remotely? Then you need to learn more about Guru.com.
Guru.com is an online freelance marketplace that connects businesses and individuals with talented freelancers, or gurus. As long as these freelancers have access to the Internet, they can use the Guru.com platform to find freelance job opportunities that allow them to "work their way."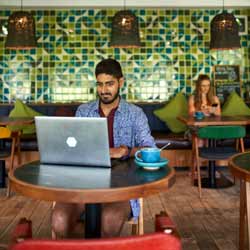 Inder Guglani founded Guru.com in 1998. It's one of the first online freelance marketplaces and has been a success since its inception. Guru.com makes it easy for businesses and individuals to find technical, creative, and professional freelancers via the freelance marketplace. Guru.com boasts a global network of over 1.5 million freelancers who are keen to complete high-quality work at affordable and competitive rates. Why don't you sign up to be a guru and join the freelancing revolution today?
Freelancers are willing to perform practically any professional service for a price. There are millions of unique services available on Guru.com including: Web, Software, IT, Design, Art, Multimedia, Writing & Translation, Admin Support, Management And Finance, Engineering & Architecture, Sales & Marketing, Legal, and many other niches. Due to the variety of options, every aspiring freelancer can find a niche where they excel.
Let's look at how Guru.com works. Gurus sign up for a free account online. Gurus may be individuals or a team of talented people. Their Guru profile provides an overview, highlights their portfolio, promotes their feedback, and focuses on their skill sets. It also provides their price per hour and other pertinent info. The Guru.com profile is essentially the face of their new freelance business.
Businesses that need services completed also sign up for a free account and post their job listings. These freelance opportunities can include just about anything, such as resume writing, ghostwriting, app developing, HTML help, logo design, software development, graphic design, PHP, social media management, eBay sales, AdWords, proofreading, and the list goes on and on.
Gurus then bid on different jobs based on their skill sets, prices, number of offers, and job descriptions. The businesses then sort through the bids and choose the right person for the job. It's a convenient and secure process.
Once the Guru is chosen, they can get to work. All communications, agreements, and documents are completed via the Guru platform. There is no need to ever meet in person. Everything is done remotely and managed online via Guru.com.
When the final work is accepted and approved by the client, Guru.com releases payments in a timely manner to the freelancer via direct deposit, PayPal, or other payment methods. As long as the Guru produces high-quality work, Guru.com is an excellent way to build a repeat clientele and to create a stellar portfolio.
In exchange for providing the Guru.com platform, infrastructure, technology, and support, Guru.com takes a commission from every transaction. The fees are based on an individual's membership level and range from 4.95% to 8.95%. The free membership takes an 8.95% fee, while a paid Guru membership takes a lesser percentage and allows access to premium job listings.
Some committed Gurus have made millions of dollars over the course of their Guru.com careers. On average, most Gurus will make about $1000 a week, while some successful Gurus can make upwards of six figures a year. The amount a Guru will ultimately make depends on how much they work, the skills they have to offer, and the quality of the work that they complete.
No matter what your skillset is, Guru.com is an excellent way to make a living, build a portfolio, or earn a bit of extra cash on the side. If you've been dabbling with the idea of becoming a freelancer, sign up for a free account on Guru.com and give it a try. This could be your launchpad to the remote, desk-free life you've been dreaming about.
Quick Facts About Guru.com
Year Founded: 1998
Headquarters: Pittsburgh, Pennsylvania
Description: Provides an online freelance marketplace that connects businesses and individuals with talented freelancers
Freelancer Requirements: Skills and talents
Pay: $1000 per week
Helpful Guru Freelance Worker Links: