Driving With Uber
Unless you live in a cave, you've probably heard of Uber. It's a multi-billion dollar ridesharing company that operates in all major US cities and over sixty countries worldwide. It's growing quickly and always hiring.
Travis Kalanick and Garret Camp founded Uber in 2009. Uber specializes in connecting eager riders with safe and reliable drivers for local transportation. The world has enthusiastically embraced Uber and its unique shared economy business model, which is why Uber is a household name everywhere.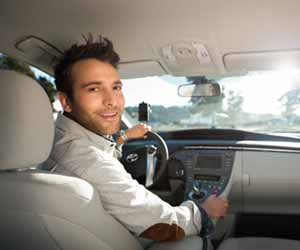 Uber has several ridesharing competitors, but they are still the leaders of the rideshare world. They have infiltrated cities and towns across the United States and they have been able to successfully take the shared economy business model global. It seems like this booming company is doing everything right.
As a company, Uber develops, markets, and operates the infrastructure necessary to connect riders with vetted drivers via a mobile smartphone app. They process millions of requests for rides every day from every corner of the world. Uber gets a small commission from every ride, while the driver gets the rest. It's a system that continually proves to work well for the company.
Like every successful business, Uber has had its ups and downs. It's been in the headlines over disputes with taxi companies and governments, but the company still seems to thrive because both drivers and passengers love Uber. It works, it's convenient, and it's easy to use.
All you need to use Uber is an iOS or Android smartphone and the Uber app. Passengers request a ride. Drivers accept and respond. Once the pick up is made, the driver drives their own car to the destination and drops the riders off. Drivers rate passengers and vice versa, which helps to build a loyal and reliable Uber community.
Uber deals with all monetary transactions – eliminating cash from the equation. They even dictate the price of the ride based on distance, time, weather, traffic, disasters, and other factors. The Uber experience is simple and hassle-free. Just sign up to ride or sign up to drive.
Uber grew their ridesharing business to always ensure the customer gets with they want. They offer different services for different passengers. UberPool offers discounted transportation by sharing rides with strangers. UberGo is a low-cost global option. UberTaxi partners with local taxi commissions in certain cities. UberX will transport up to four people in non-luxury cars. UberSelect offers higher-end transportation and mandates leather seats. UberBlack offers passengers a private driver and a high-end sedan. UberSUV has space for up to six people. UberLux has top-end vehicles from BMW, Mercedes, or Porsche. UberAccess is wheelchair accessible.
Uber continues to expand its rideshare options to meet its domestic and international markets. They are also making moves into the on-demand delivery market as well. The future is bright for Uber and for anyone who wants to be an Uber driver.
To become an Uber driver, apply online. Uber requires you to be 21 years old, have a valid driver's license, and pass background checks. At a minimum, your vehicle must be a newer model with four doors, in-state plates, and sufficient auto insurance. Check online for Uber's latest driver requirements.
Being an Uber driver offers flexibility and freedom. You are your own boss. You get to choose when and where you want to work. Drive for Uber full-time or accept a ride when the traffic is busy. You can make a living driving for Uber or you can make enough to pay rent.
The more you work, the more you make. Uber pays its drivers weekly. Those drivers generally receive a high hourly rate. In certain metropolitan markets, Uber drivers can make excellent money. What are you waiting for? Sign up today.
If you want independence, flexibility, the ability to be your own boss, and a way to escape the office, then apply to drive for Uber. It's a life-changing experience that might be the perfect career path for you.
Quick Facts About Uber
Year Founded: 2009
Headquarters: San Francisco, California
Description: Connects passengers with drivers via the Uber mobile app
Passenger Requirements: Uber App, Credit Card
Driver Requirements: 21 years old, Valid drivers license, Auto insurance
Vehicle Requirements: Model is Uber service-specific
Helpful Uber Driver Links: