Get Paid to Do Odd Jobs
What types of things will you do for money? Would you mount a TV on someone's wall? Pull a hilarious prank on someone's co-worker? Ghostwrite a book? Deliver an expensive latte to a fancy office building? Clean out a garage? Shovel a snowy driveway? Research a report? Take photos to provide up-to-date information? Go grocery shopping? Weed a garden? Cook dinner? When you sign up to work for an odd jobs on-demand company in the shared economy, you can get paid to do these things.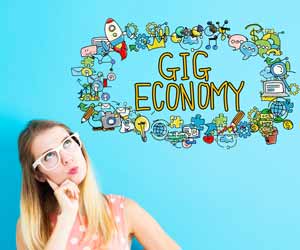 Odd jobs on-demand is a thriving part of the shared economy. This lucrative niche helps connect busy consumers with highly trained and specialized workers who are willing to do just about anything in exchange for a job that offers flexibility, convenience, work-life balance, and a steady income.
Let's be honest, odd jobs on-demand is one of the greatest things ever. Anytime a consumer doesn't want to do something, isn't able to do something, or doesn't have time to do something, all they have to do is grab their smartphone and hire someone else to do it. It's convenient, affordable, and hassle-free.
Both individuals and businesses can get virtually anything done with this shared economy business model. Once they download the app and set up an account, they just have to make a request for an odd job on their mobile device. They describe the task, list the location, and note any specific details.
After the odd job is listed, on-demand workers can accept the gig if they choose to. Depending on the company, it can be first come first serve or the consumer can choose the best person for the job based on their skill sets and hourly rates. Any additional details are coordinated and submitted through the app.
When the job is completed, both parties get to rate their experience. Then the shared economy company finalizes the transactions and takes a commission. Everybody comes out ahead in the shared economy.
Individuals and businesses love the convenience of having an on-demand, mobile workforce that is willing to work at competitive and affordable rates. They essentially have a global workforce of eager taskers actively checking their smartphones to complete any task in real-time.
There is enough work to keep even the most efficient worker busy too. The majority of work is located in metropolitan areas where there is more supply and demand for odd jobbers, but the odd jobs on-demand niche is quickly spreading to every city and town.
People everywhere are earning money doing odd jobs in the shared economy. Some workers perform micro-tasks and get paid $3 to $100 per task. Others can easily earn $15 to $80 per hour for skilled labor like handy work or cleaning. Making $2,000 a week or over $100,000 a year isn't unheard of. Performing odd jobs on-demand is a real way of making a living.
If you're itching to get started in the odd jobs on-demand niche, here are a few shared economy companies you should check out:
Sign up to work for multiple shared economy companies to maximize your time and income. You could drive for Uber in the evenings, work for TaskRabbit on the weekend, and grab a Gigwalk micro-task on the way to work. In the shared economy, it's easy to have multiple income streams.
Apply to work for companies like TaskRabbit, Gigwalk, Handy, or other odd job on-demand businesses. You'll have to pass a background check and be interviewed before they accept you. Then build your online profile, highlight your skill set, and get to work.
You'll be an independent contractor who can accept any task that comes your way. The more you work, the more you make. All you have to do is check your smartphone regularly. It's that simple to start making money in the shared economy.
The shared economy is the future of work. Everybody wins in this community building, technology savvy, mobile marketplace. If you're keen to do odd jobs and build your own business, then sign up to be a part of the odd jobs on-demand marketplace. Maybe you will earn your next paycheck with a completely flexible job that capitalizes on your skills.
Find Odd Jobs On-Demand With These Shared Economy Companies: