Upwork Freelance Jobs
Find Freelance Jobs With Upwork
Are you a web developer, virtual assistant, customer service agent, mobile developer, game designer, illustrator, data entry expert, researcher, copywriter, editor, architect, interior designer, lawyer, sales and marketing expert, writer, accountant, consultant, or some other professional? Whatever you want to do, you can now do it as a freelancer on Upwork.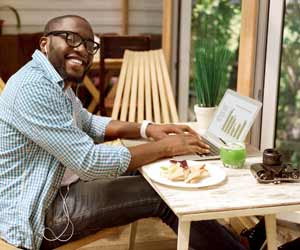 Upwork is an online freelance marketplace where businesses and freelancers can connect and collaborate to complete technical, creative, and professional projects. All work is done remotely which allows both businesses and freelancers the flexibility and the freedom that they crave.
Based in Mountain View, California, Upwork was created in 2015 as the new face of Elance-oDesk. Elance and oDesk were both online marketplaces for freelancers that merged in 2013 to create one of the world's largest freelance marketplaces. Upwork now features 10+ million registered users and 4+ million clients. This world-class online platform is the place to be for anyone who wants to freelance.
Like every other shared economy business model, everybody wins with Upwork. Freelancers have the opportunity to work with top companies, to build their portfolio, to create a loyal clientele, and to work remotely. Businesses get high-quality work completed on-demand at an affordable rate by a talented professional without any overheads and limited risk. And Upwork takes a small commission for making it all possible. Everyone comes out ahead.
To get started as a freelancer with Upwork, sign up for a free account online. Build your profile page, take Upwork skills tests to prove your abilities, and highlight your professional portfolio. Once your freelance "business" is ready, browse through jobs and submit applications and bids for projects that match your skillset.
Thousands of jobs are posted every single day, so there is never a shortage of cool new opportunities posted by legitimate businesses and individuals on Upwork. These clients may need help with translations, HTML, blogging, YouTube, WordPress, animation, logo design, data entry, marketing, or any number of other skills. Upwork claims that over 2700+ skills are available via their online freelance marketplace. As a freelancer, it's your job to market your skills and to land the jobs that you are qualified for.
The client ultimately selects the best candidate for the job based on the freelancer's profile page, portfolio, reviews, feedback, price, and other factors. Upwork provides clients the opportunity to interview and screen freelancers before they award the project too. This helps all parties know who they are working with and what to expect.
Once a project is awarded, the freelancer and the business use the Upwork website and mobile apps to communicate and complete the projects in a secure, online "office." When the work is finalized and approved, Upwork handles the final monetary transactions and ensures that all parties are satisfied. If all goes according to plan, the freelancer and client will build a long-lasting, professional relationship.
Payments are made to the freelancer via PayPal or bank transfer within one week of project completion. Upwork takes a 10% commission on every completed transaction as a fee for providing the infrastructure, technology, support, and connections to make this all possible.
At the end of the day, freelancers with Upwork make an average of $20 per hour. Most dedicated freelancers can make about $1000+ per week. Some highly talented freelancers can earn much more than this and it's not unheard of to pull in six figures a year via Upwork.
Upwork allows freelancers to capitalize on their skills and talents through their user-friendly online marketplace. This portal to the freelance world is a life changing opportunity for anyone who wants to escape the cubicle jungle.
With Upwork everyone can have access to thousands of freelance jobs that they can do remotely on your own schedule. You still have to apply for the jobs, but if you do it correctly, Upwork is one of the best ways to make a living. Sign up for Upwork and say goodbye to that annoying boss, stressful commute, and cramped cubicle.
Are you ready to live anywhere and to build your freelance business? Sign up for Upwork today.
Quick Facts About Upwork
Year Created: 2015
Headquarters: Mountain View, California
Description: Provides an online freelance marketplace where businesses and freelancers can connect and collaborate to complete technical, creative, and professional projects
Freelancer Requirements: Talents/skills, Free account
Pay: $1,000+ per month on average
Helpful Upwork Freelance Work Links: