Fiverr Freelance Jobs
Earn Your Next Paycheck $5 At A Time With Fiverr
What will you do for $5? Sign up for Fiverr and find out.
Fiverr is one of the world's largest freelance marketplaces for creative and professional services. It's the only place on the web where you can get practically anything done for cheap. On Fiverr, freelancers capitalize on their skills and creativity by completing tasks for just five bucks.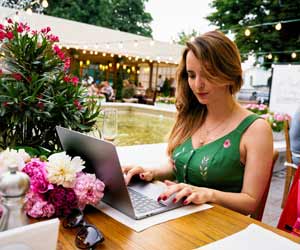 Fiverr pays you for the skills and talents that make you unique. This may include resume writing, logo design, animation projects, voiceovers, infographics, blog posts, testimonials, or something totally off the wall. For example, if you want a girl to get a pie thrown at her while she sings a personalized happy birthday song, then you can head to Fiverr. Pretty much anything is possible on Fiverr. What will you do for five dollars?
Fiverr has an engaged, global audience and a worldwide network of eager freelancers who are keen to offer their digital services at a competitive rate. There are millions of services available in over 100+ categories including Graphics & Design, Online Marketing, Writing & Translation, Video & Animation, Music & Audio, Programming & Tech, Advertising, Business, Lifestyle, Fun & Bizarre, and other cool categories. Where do your skills fit in?
Shai Wininger and Micha Kaufman founded Fiverr in 2009 and launched the company in 2010. Based in Tel Aviv, Israel, Fiverr is available in English, Spanish, French, Dutch, and Portuguese. This genius freelance marketplace allows any aspiring talented or creative freelancer an outlet where they can market their useful, practical, creative, and sometimes hilarious digital talents.
Fiverr is similar to other freelance marketplaces where anyone can sign up for a free account. Once logged in, freelancers create a profile that highlights their talents, skills, or creative genius. They have complete and total control over their personal brand and profile. From legal services to goofy antics, freelancers can do just about anything. As long as they offer an outstanding digital service, or gig, clients will find them and will pay them $5.
When a client needs something done, they head to Fiverr. On the Fiverr website or app, they can browse micro-jobs, read reviews, look at profile pages, and contact freelancers with any questions, comments, or concerns. Prices are set which makes the experience convenient and hassle free. Once a client places an order for a gig, it's up to the freelancer to deliver a high quality product that makes the client happy. It's a simple business model that runs on the slogan, "Browse. Buy. Done."
After a project is completed, Fiverr charges the client and pays the freelancer in a timely manner. It's all pretty simple and it's a business that seems to be thriving – where else can you get anything done for just $5. Fiverr makes their money by collecting a 20% fee on every transaction. This covers their admin, support, legal, IT, and other costs.
Many aspiring freelancers are nervous about only charging $5 for a digital gig. While the majority of gigs start at $5, there are some premium gigs that cost more money. Freelancers also have the ability to up-sale their gigs by adding faster deliveries, premium images, multiple file types, extra revisions, gratuities, and other factors to the overall bill. And don't forget that the freelancer gets to keep 80% of the total amount that is charged.
Fiverr freelancers work as independent contractors. They can usually make a few hundred dollars every month. Some people make way less and others pull in six figure salaries – $5 at a time. It all adds up quick. Plus, working on Fiverr has other perks too. Freelancers can work from anywhere on the planet on their terms and conditions. It's a totally flexible job that is convenient and hassle free. Prices are set. There are no bidding wars or heated negotiations, which eliminates a lot of the stress that is often found in the freelance world.
Fiverr's global freelance marketplace is one of the best ways to market your professional skills, unique talents, and humorous creativity. Anyone can sign up for a free Fiverr account. Why don't you? Think about what you are willing to do for $5 and sign up right now.
Quick Facts About Fiverr
Year Founded: 2009
Year Launched: 2010
Headquarters: Tel Aviv, Israel
Description: A freelance marketplace for creative and professional services where gigs cost only $5
Freelancer Requirements: Skills and/or ideas
Pay: $500+ per month on average
Helpful Fiverr Employment Links: