Is A Ridesharing Job Right For You?
Do you want to be your own boss? Are you eager to only work when you want to work? Have you considered escaping the 9 to 5 grind? Are you looking for an office free life? Have you been dabbling with the idea of working for yourself? If you answered yes to one or all of these questions, it's time to realistically consider finding a driving job with a ridesharing company.
Ridesharing is part of the gig economy – a business model that connects responsible drivers to community members who need a ride. It's a niche that didn't exist a decade ago. The convenience of mobile devices, GPS technology, constant access to data, and easy to navigate apps make the world of ridesharing possible.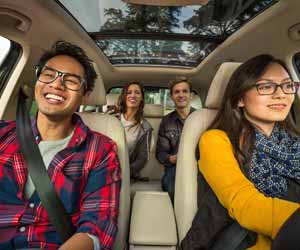 From rides home after a night out on the town to a scheduled airport ride that can accommodate your luggage to a shared carpool to your favorite concert, ridesharing has you covered. It's changing the way that transportation works and people love it. Did you know that there are millions of requests for rideshare rides every single day? That's a lot of opportunities for rideshare drivers to make money.
The beauty of ridesharing is that it provides around the clock, on-demand service. With a tap of an app on a smartphone, any rider can request a ride. Then a driver who wants to work can accept the request, pick up the passenger, and be guided to the destination via the smartphone's GPS. All transactions are completed via the app and no money needs to be exchanged. The driver gets paid regularly for the rides he provides and the company takes a small commission of each transaction. Everyone is happy.
Ridesharing provides a hassle-free experience that is offered on-demand. It limits the number of cars on the road, which reduces traffic and is environmentally friendly. It creates full-time, part-time, and flexible jobs. Plus, it builds a community that relies on each other for transportation and business. And don't forget that if you share a ride with a stranger, you just might make a beneficial, local connection.
Ridesharing started in a few select cities in the United States. It has quickly grown to include most major metropolitan areas both in North America and globally. It continues to grow too. Wherever you live, there are opportunities to become a rideshare driver.
Ridesharing companies need people like you. They are actively hiring responsible, licensed drivers to share the responsibility of providing on-demand rides. It's easy to apply, the pay is great, and the job is totally flexible. It's basically the perfect job for just about everyone.
Which ridesharing company is right for you?
Uber – Uber is the pioneer of the industry and has lucrative opportunities around the globe.
Lyft – Lyft is constantly expanding and is a major competitor in the ridesharing niche.
Wingz – Wingz provides scheduled airport pick ups and drop offs.
Work for one or sign up to drive for all of them. It's okay to double dip and maximize your income potential. To become a rideshare driver you need to have a vehicle, a driver's license, auto insurance, a clean background, and a smartphone. If you meet those requirements, you have a good chance of landing a job as a rideshare driver. Requirements vary slightly for each ridesharing company, so do your research.
Once you're employed, you can work when you want to work. Turn ridesharing into a full-time job, a part-time job, or just work as a way to earn a few extra bucks. It's entirely up to you.
Drivers in places like San Francisco, Dallas, New York, London, Moscow, Tokyo, and hundreds of other cities collect regular paychecks and they never step foot inside an office. Some make upwards of $100,000 per year! Hundreds of thousands of drivers can make money supplying rides as you read this. Why aren't you doing this?
Ridesharing is here to stay and you should be a part of it. Try it today.
These Ridesharing Companies Want To Hire You: