Work for Handy
Find A Flexible Household Services Job With Handy
What needs to be done in your home or office? A new toilet installed? A thorough cleaning? A room painted? With Handy, you can book trusted professionals to provide cleaning and handyman services. It only takes a minute and you'll have an experienced pro at your door tomorrow who can complete the projects that you don't have time to do.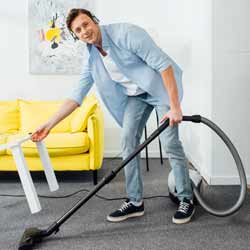 Oisin Hanrahan, Umang Dua, Ignacio Leonhardt, and Weina Scott co-founded Handy in June 2012. Originally called Handybook, Handy raised millions in start-up funds. Now the company is valued in the hundreds of millions of dollars. It employs over 200 full-time employees at its New York headquarters and works with over 10,000 independent contractors who work as Handy Professionals.
Handy connects household service professionals with customers for scheduled cleaning and handyman services. For customers, it's the easy way to get things done in their home or office. For professionals, it's the best way to capitalize on their handy skills while maintaining a flexible schedule. For Handy, they make the connections and take a percentage of each transaction. It's the classic shared economy business model where at the end of the day everyone is better off.
Handy is a convenient, hassle-free, and affordable way for customers to find professionals who supply cleaning, handyman, plumbing, electrical, and other services. Basically, if it's a task that makes your home or office shine, then Handy can take care of it.
Here's how Handy works: A customer goes to Handy.com or uses the Handy App on Android or iOS to book the household service that they need. They select the service, the date and time, and accept the price. Price is dictated by location and service. Handy then connects the customer to a highly rated service professional. The whole booking process can take less than a minute.
After the customer confirms the appointment, they pay and tip online. The service professional arrives at the scheduled time and completes the job. The customer can track the status of the job via the app if they are not home. When the job is completed they rank the professional. If they are pleased, the customer can schedule repeat visits – kind of like a subscription service.
Handy offers complete peace of mind because Handy offers a 100% money-back guarantee. They only use trusted professionals who are background checked, insured, and experienced. All Handy Pros must have paid experience as a cleaner or handyman, must be legally allowed to work, and have a guest service-oriented attitude.
Handy operates in major metropolitan areas in the United States, Canada, and the United Kingdom. If you live in one of these places, apply to become a Handy professional at Handy.com. If you pass the basic requirements, you can make a solid income doing what you do best.
Some Handy professionals make up to $1000 per week. Cleaners can make up to $22 per hour and handyman work can bring in up to $45 per hour. Pros are paid instantly once the job is completed. Be ready to pay for your own travel and the necessary supplies to get the job done. Handy takes a competitive fee from each transaction for supplying the infrastructure, technology, and platform that makes everything possible.
Being an independent contractor with Handy offers more than a solid paycheck though. Handy allows service professionals to choose when they want to work. You'll have complete control of your own schedule and you'll be your own boss. You can work part-time, full time, or whenever you feel like it. Do a good job and you can build your own loyal clientele and turn your Handy skills into a full-time job. It doesn't get much better than that.
Are you ready to become a Handy professional? Apply online, download the app, and get paid to do what you're good at.
Quick Facts About Working with Handy
Year Founded: 2012
Headquarters: New York, New York
Description: Connects household service professionals with customers for scheduled cleaning and handyman services
Requirements: Paid experience as cleaner or handyman, Work authorization, Guest Service Attitude
Pay: Up to $1000 per week
Helpful Handy Employment Links: