Tours By Locals Tour Guide Jobs
Lead Tours Anywhere In The World As A Tours By Locals Tour Guide
Traveling is always a fun adventure. If you want your travel experiences to be even better, book a private tour with Tours By Locals.
Tours By Locals connects reliable, knowledgeable, local tour guides with happy travelers to enhance the travel experience by providing private tours all over the world. These experts have local knowledge about where to go, what to do, and what to see. It's the ultimate way to experience destinations near and far.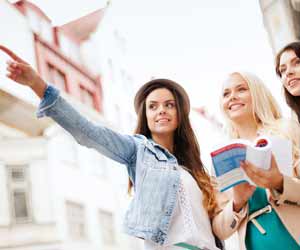 Tours By Locals is totally changing the way that people travel and it's really cool. Book a tour and you'll get to experience your favorite destinations through the eyes of a trusted local. Next time you head to Aspen, Boston, Tehran, Moscow, London, Sydney, Banff, New York, Alaska, or countless other spots, book a tour with Tours By Locals.
Travelers can search for tours by region on the Tours By Locals website. They can select a tour guide based on bios, photos, and ratings. Travelers can then communicate directly with the tour guide prior to booking to make sure everything is the way the traveler wants it. Where else can you get an affordable, private, customized tour led by a local, expert tour guide?
Tours By Locals offers half-day or full-day tours. These tours may include surfing safaris, guided ski experiences, city highlights, cultural experiences, mountain hikes, photo tours, culinary tours, cycling, eco-tourism, adventure tours, shore excursions, or just about anything else you can imagine. It's a brilliant way to experience the world.
Paul Melhus and Dave Vincent founded Tours By Locals in 2008. This peer-to-peer, shared economy business is based in Vancouver, British Columbia, Canada, but operates worldwide. Currently, there are over 1500 tour guides offering thousands of different tours in over 136 countries. These tour guides have provided unique local experiences to nearly 400,000 travelers.
Anyone in the world can apply to a Tours By Locals tour guide. If you pass the initial screening you will go through multiple interview rounds, reference checks, and background checks. The interviews are conducted via phone, video, or in person. They are designed to assess your language skills and to learn more about you. The reference and background checks are done through Thomson Reuters World-Check. Tours By Locals re-screens all tour guides every six months to ensure the safety of travelers.
If you make the cut, it's your job to brainstorm and create a custom tour that travelers will enjoy. Then it's time to build your profile and set your rates. Let Tours By Locals take care of the rest. They will deal with the administration, marketing, advertising, support, insurance, and everything else that you need to be successful. All you have to do is ensure the guests have a good time on your tour.
As a Tours By Locals tour guide, you choose when and where you want to work. You are completely in charge of your own schedule. The more you work, the more you make. The prices are set by the tour guide and are paid per tour, not per person. The prices for tours range from $50 for a half-day to $2000+ for a multi-day trip. Pricing is typically determined by your location and your activity.
Tour guides are paid every two weeks via electronic payment for all completed tours. There are no on-going costs and no costs to apply, but Tours By Locals does take a small commission out of each completed tour to cover their costs. Tours By Locals also discourages tipping.
If you want to share your insider knowledge of your city, your backyard, or your country, then sign up to be a Tours By Locals tour guide. Leading private, customized tours for happy travelers is a fun way to earn a paycheck.
Quick Facts About Tours By Locals
Year Founded: 2008
Headquarters: Vancouver, British Columbia, Canada
Description: Connects reliable, knowledgeable local tour guides with happy travelers to enhance the travel experience by providing private tours all over the world
Tour Guide Requirements: Language Skills, Background Check, Reference Check, Multiple Interviews
Pay: $400 per day on average (Depends on tour activities and location)
Helpful Tours By Locals Links: