Are You Ready To Become A Tour Guide In The Travel And Tourism Niche?
There's something nice about being a local. You know all the best restaurants, how to avoid the crowds, where the fun shows take place, the coolest spots for street art, the inside scoop on the latest art museum exhibits, and insights into the local environment. Life as a local is great.
It takes time to become a local and to learn the ins and outs of your city. Have you ever thought about capitalizing on your local knowledge? With online peer-to-peer travel and tourism marketplaces you can make money by sharing your insider info. This niche provides you with a platform to connect with travelers who want the local experience.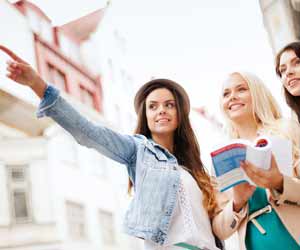 These travelers only have a short time in your hometown and they want to make the most of their traveling experience. By connecting with a true local expert, they can learn what to see, what to do, and where to go to get the best of the best.
From personalized trip recommendations to private tours and experiences to intellectually stimulating walking seminars, the travel and tourism niche of the shared economy is changing the way that the world travels. People are no longer relying on giant travel guide books to steer them toward the "real" experiences, instead they can connect with a local expert who can show them the things that they'll never learn about unless they lived there.
The tourism and travel niche of the shared economy is having a positive impact on how people travel. It's the ultimate way to experience a new destination. But for local tour guides it's a flexible way to earn a living while doing what you do best – creating experiences for others.
What's really cool about this opportunity is that you are in demand. People want to see the world where you live. They want to do the things that you do. They want to live life like a local. You can earn your next paycheck by sharing your local knowledge and your passions when you apply to be a tour guide in the shared economy.
Let's explore a few cool tourism and travel businesses that might be perfect for you:
Tour By Locals– Connects reliable, knowledgeable local tour guides with happy travelers to enhance the travel experience by providing private tours all over the world
Your Local Cousin – Connects travelers with local experts who can help them remotely plan their trip by making personalized recommendations
Context Travel – Connects local scholars and specialists with intellectually curious travelers for small group and private walking seminars in cultural destinations
Every one of these travel and tourism shared economy companies is unique and they are all successful. Learn more about these cool businesses to see which ones you qualify for and which ones you might want to work for. One of the great things about this niche is that you can work for more than one company to grow your business, reach more travelers, and to fully maximize your income. Isn't the shared economy great?
Are you ready to become a shared economy tour guide? The requirements are different for every company, but the chances are good that you qualify for at least one or two of these opportunities. Apply online to see where you fit in. If you're accepted, build your profiles, create your tours, and enjoy the flexible lifestyle.
One huge benefit of online travel and tourism marketplaces is that you can focus on what you do best – creating experiences, leading tours, and sharing your local knowledge. Let the shared economy company deal with the annoying headaches of administration, marketing, advertising, infrastructure, and other business aspects. Of course for their hard work, they take a percentage of every transaction – but that's how the shared economy works. Everyone wins.
Wherever you are and whatever you enjoy doing, there's a place for you in the travel and tourism shared economy. If you're willing to share your knowledge, your passion, and your city with travelers from near and far, then sign up to be a local guide today. This is the ultimate flexible job that allows you to live the life you love.
Find Tour Guide Jobs With These Shared Economy Companies: