Apply For Dasher Jobs With DoorDash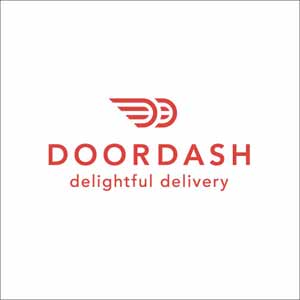 What's your favorite restaurant? Do you enjoy The Cheesecake Factory, California Pizza Kitchen, Fuki Sushi, Lyfe, Buffalo Wild Wings, IHOP, Panera, Taco Bell, or some other delicious local spot? Most of these restaurants aren't known for delivery, but with DoorDash nearly every restaurant can deliver tasty food to your door.
DoorDash offers on-demand delivery from all of your favorite restaurants. They work with both recognizable chain restaurants and local boutique restaurants to provide delivery service. Instead of having to go out for a nice meal, DoorDash brings the food to you in 45 minutes. It's convenient, hassle free, and absolutely delicious, or as DoorDash claims, it's "delightful delivery."
As part of the shared economy, DoorDash utilizes mobile devices and flexible workforces to capitalize on urban logistics. To order a meal or a product via DoorDash, customers use an iOS or Android app to select items from hundreds of different restaurant menus. They can customize their order and pay for it via the app – with the option to include a gratuity for the driver. There are no minimum orders so customers only have to pay for exactly what they want.
Once the order is placed, any working DoorDash driver can accept the pick up and delivery of the order. They head to the restaurant, grab the food, and bring it to the customer's door. The customer can track the order and receive live status updates throughout the entire process. Getting a delicious meal has never been this easy.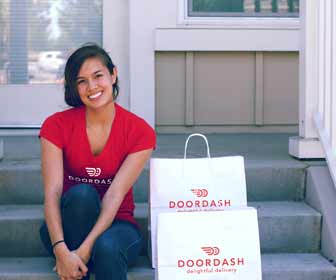 DoorDash's beautiful business model works well and makes everyone happy. Customers get on-demand delivery. Merchants and restaurants can sign up to be included in the DoorDash delivery service, which helps to boost their bottom line. DoorDash also offers flexible employment opportunities to keen shared economy entrepreneurs. And DoorDash makes a bit of cash by taking a cut of every transaction. There really aren't any downsides at all.
Stanford students Evan Moore, Andy Fang, Stanley Tang and Tony Xu founded DoorDash in 2013. This shared economy business is based in the tech hub of San Francisco, California. DoorDash specializes in on-demand food delivery, but hopes to expand into on-demand delivery of everything. The company is valued in the hundreds of millions of dollars and has found success in every market that it operates.
DoorDash started in cities like San Francisco, Los Angeles, Boston, Washington DC, Chicago, Dallas, and Brooklyn. It's quickly expanded to include other major metropolitan areas that are filled with hungry customers and has goals to expand to even more locations in the future. Check out the DoorDash website to see if DoorDash operates where you live. Cross your fingers that it does because DoorDash rocks!
To become a DoorDash Dasher, aka delivery driver, apply online. Applicants must be 18 years old, own an iOS or Android smartphone, have a valid drivers license, insurance, clean driving record, and at least 2 years of driving experience. Ideally you need a car, but a bike, scooter, or even your own two feet will work as well.
If you meet these requirements, DoorDash will invite you to attend an orientation session and you'll be supplied with your uniform – a cool DoorDash t-shirt with restaurant line skipping potential. Once you complete these steps, you're ready to start working.
When you work for DoorDash you get to set your own hours. You can work full-time, part-time, or whenever you want. It's completely flexible. The job is simple – open your app, accept an delivery, pick it up from the restaurant, deliver it, and get paid.
DoorDash Dashers can make up to $25 an hour. They are also entitled to 100% of any tips. Dashers are paid regularly via direct deposit. Where else can you make up to $25 an hour plus tips with a flexible schedule where you are literally your own boss. Sometimes the shared economy sounds too good to be true.
Does DoorDash operate in your area? If they do, sign up to be a Dasher. It's a cool job that pays well, offers flexible hours, and needs you. DoorDash is hiring right now. Apply today.
Quick Facts About DoorDash
Year Founded: 2013
Headquarters: San Francisco, California
Description: Provides on-demand delivery from both chain and local restaurants
Delivery Dasher/Driver Requirements: 18 years old, Smartphone owner, Vehicle
Pay: Up To $25 per hour plus tips
Helpful DoorDash Links: