SpoonRocket (Status: Out of Business)
UPDATE: On March 15, 2016 SpoonRocket announced that they will be closing down. They will transition their customers to competitor Sprig, which is offering SpoonRocket users a $10 discount.
Do you always eat healthy meals? Why not? Is it too pricey? Is it inconvenient? Do you not have enough time? Well you no longer have any excuses because SpoonRocket is here to deliver healthy meals to you.
SpoonRocket is an on-demand food delivery company that claims to provide "the most convenient meal ever." Their goal is to provide affordable, healthy foods made daily with high quality, fresh ingredients. SpoonRocket wants everyone to be able to afford to eat well everyday. But the unique feature of SpoonRocket is their "speed of light delivery" that strives for curbside delivery in less than 15 minutes. Now that's impressive.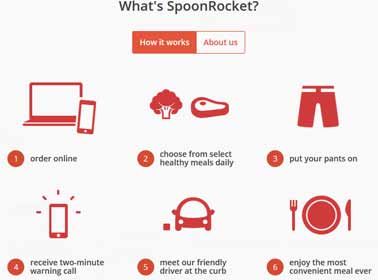 SpoonRocket offers lunch, dinner, and late night snacks. They use high-end chefs to create and design unique meals daily. For every meal, SpoonRocket offers two options – one meat option and one veggie option. Once the meals are made, SpoonRocket uses special heating devices in the passenger seat of their delivery vehicles to keep the food warm. This allows them to anticipate delivery demands and cut down delivery times.
If you think that Thai Curry Chicken, Garlic Butter Baked Salmon, Chicken Tikka Masala, Rigatoni with Roasted Tomato Cream Sauce, Smoked Gouda Mac & Cheese with BBQ Pulled Pork, or Korean BBQ Chicken sounds perfect for your next meal, then download the SpoonRocket app on your iOS or Android device.
To order food from SpoonRocket, open the app and place an order with a few taps on your smartphone. All payments are made through the app so they are completely hassle-free. The total charge will include the food, delivery fee, tax, and an optional gratuity. Once the order is place, delivery drivers drive to the customer's location. Customers receive a 2 minute warning via the app that signals it's time to head out to the curb and pick up their warm and delicious meal. It's amazingly simple.
University of California at Berkley graduates Anson Tsui and Steven Hsiao founded SpoonRocket in 2013. The company started as a business that catered to student's junk food cravings. Since it's inception, it has grown to focus on healthy and affordable meals. Now, customers can't seem to get enough of SpoonRocket.
SpoonRocket is headquartered in San Francisco, California, but operates in several urban areas in the United States, including Seattle. SpoonRocket has been wildly successful and has seen huge growth as the company has revolutionized speedy delivery and affordable healthy food. SpoonRocket has plans to expand in the future. They are often looking for early adopters in new markets – check the website for details.
Like most on-demand delivery companies, SpoonRocket is part of the shared economy. Delivery drivers can work flexible hours and shifts to share the responsibility of the job and to meet demand. As a SpoonRocket driver, you are essentially your own boss where you use your own vehicle to delivery healthy meals to hungry people.
To become a driver for SpoonRocket, apply online. You need to be at least 18 years old. You'll need an iOS or Android smartphone with a big data plan. You also need a reliable, insured, and registered vehicle that can hold a contraption that keeps the food warm. All drivers for SpoonRocket will also have to pass both a criminal background check and a drug test.
Once you land the job as a SpoonRocket driver, aka SpoonRocketeer, you can earn up to $20 per hour plus tips. The real beauty of this shared economy job is that drivers can choose when they want to work and still collect a solid paycheck. The more you work, the more you make.
There aren't many companies that are focusing on food that is healthy, fast, and cheap. Apply to be a SpoonRocket driver today and help the world enjoy convenient, healthy, and delicious meals everyday.
Quick Facts About SpoonRocket
Status: Closed down operations on March 15, 2016
Year Founded: 2013
Headquarters: San Francisco, California
Description: Provides on-demand and scheduled curbside delivery of healthy and affordable meals
Delivery Driver Requirements: 18 years old, Smartphone, Insured Vehicle, Background Check, Drug Test
Pay: Up to $20 per hour plus tips