Sidecar (Status: Out of Business)
UPDATE: On December 29, 2015, Sidecar announced that it would shut down. On January 19, 2016, automaker General Motors acquired Sidecar's assets and intellectual property, and hired Khanna and 20 other employees. The purchase was a follow-up to GM's $500 million investment in Lyft.
Sidecar bridges the gap between on-demand ridesharing and on-demand delivery services. This innovative company is growing quickly and offers exciting and unique opportunities for keen shared economy drivers.
Sunil Paul and Jahan Khanna founded Sidecar in September of 2011 and launched the company in 2012. Sidecar joined the other frontrunners of the shared economy and began as a ridesharing business. Over time they found it hard to compete with ridesharing companies like Uber and Lyft. To differentiate themselves, Sidecar changed its focus and shifted gears toward on-demand delivery services in 2015.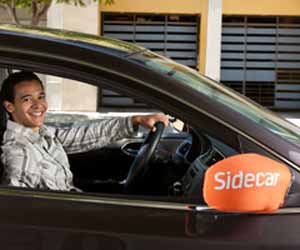 Now Sidecar is involved in both the peer-to-peer transportation network AND on-demand delivery services. Sidecar has established themselves as a customer service oriented business that connects drivers, passengers, merchants, and retailers. This economically friendly company is available in a handful of large cities in the United States, but will continue to grow.
Like any vibrant shared economy business, Sidecar offers many different services. Sidecar connects riders with drivers for private transportation. Shared Rides offers discounted carpooling options for riders headed in the same general direction. Sidecar Deliveries combines people and packages to make the pick-up and drop off of products effortless. All of these services are possible because of smartphone app technology. Download the Sidecar app on both iOS and Android devices and give it a try. You'll like it.
Sidecar's peer-to-peer transportation network operates in a very similar fashion to Uber and Lyft. Passengers tap an app to request a ride and a loyal driver picks them up and transports them to their destination. Riders can select a solo or a shared ride. They can also select a ride based on price, vehicle, or wait time. All transactions are handled via the app, making it convenient, safe, and hassle-free.
Sidecar's on-demand delivery service provides same-day delivery services of goods, foods, flowers, packages, and other products. Sidecar even works with Meadow, a San Francisco based medical marijuana distributor. Sidecar delivery drivers use the app the same way that rideshare drivers do. They accept a delivery request, follow directions for pick up and drop off, complete the delivery, and collect a paycheck. It's simple.
To become a Sidecar driver, you have to be 21 years old, have a valid state driver's license, and own a registered vehicle with auto insurance. Sidecar performs a criminal background check and a driving record check on all drivers who apply for driving jobs. You can apply to be a Sidecar driver online at the Sidecar website.
Sidecar utilizes the same drivers for both ridesharing and deliveries. Drivers can choose what type of work they want to accept. Sidecar claims that for ridesharing services, drivers can make up to $30 per hour. For delivery work, drivers earn up to $25 per hour. Gratuities are not included. Sidecar controls the costs of all rides and takes a commission from every transaction.
It will be exciting to watch Sidecar grow in the future. They have supportive investors who want to see both the ridesharing and the delivery services expand domestically and hopefully internationally too. The potential for this combination is a premium for drivers who will be able to choose what type of work they want to pursue. Once again the ridesharing world offers a win-win situation for all parties involved.
Sidecar offers an exciting opportunity for anyone who wants to get involved in the shared economy. It offers the best of two worlds – ridesharing and delivery services. Sign up to be a driver today. It may be the best thing you ever do.

Quick Facts About Sidecar
Status: Out of Business
Year Founded: 2011
Headquarters: San Francisco, California
Description: Provides on-demand ridesharing and delivery services in major metropolitan areas
Passenger Requirements: Smartphone App, Credit Card
Driver Requirements: 21 years old, Drivers License, Auto Insurance, Background Check
Vehicle Requirements: State Registration, Newer Model