VIPKID Online Teacher Details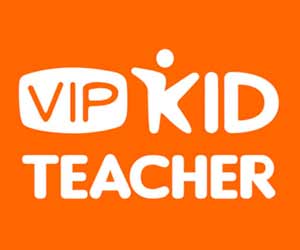 Contract Type: Independent Contractor
Contract term: 6-Months
Start date: Immediately
Location: Teach Online
Hours: A schedule of just 7.5 hours per week!
In order to maximize the number of classes you could get scheduled, they recommend you to be available for at least 7.5 hours (15 time slots per week at 30 minutes per time slot) during Beijing peak times. The following tends to be the most requested time periods in Beijing time: Monday – Friday 6-10pm, and Saturday – Sunday 9am-10pm. They do not require teachers to work full shifts; but having availability during the times mentioned above could ensure a higher possibility of being booked by our students.
Payment: Make up to $22/hr!
Our teachers receive a minimum payment of US $14-$18/hour. There are incentives for every lesson, so the payment ranges from US $14-22/hour. This opportunity is ideal for teachers looking to supplement their income.
Here are the times (converted to US times)
VIPKID Peak Times (Standard Time)
| | Mon~Fri | Saturday | Sunday |
| --- | --- | --- | --- |
| United States Times | Beijing Time 6pm ~10pm | Beijing Time 9am ~10pm | Beijing Time 9am ~10pm |
| EST (Eastern Time) | 5am ~ 9am | Fri 8pm~Sat 9am | Sat 8pm~Sun 9am |
| CST (Central Time) | 4am ~ 8am | Fri 7pm~Sat 8am | Sat 7pm ~Sun 8am |
| MST (Mountain Time) | 3am ~ 7am | Fri 6pm~Sat 7am | Sat 6pm~Sun 7am |
| PST (Pacific Time) | 2am ~ 6am | Fri 5pm~Sat 6am | Sat 5pm~Sun 6am |
| Hawaii | 12am ~ 4am | Fri 3pm~Sat 4am | Sat 3pm~Sun 4am |
VIPKID Peak Times (Daylight Saving Time)
| | Mon~Fri | Saturday | Sunday |
| --- | --- | --- | --- |
| United States Times | Beijing Time 6pm ~10pm | Beijing Time 9am ~10pm | Beijing Time 9am ~10pm |
| EST (Eastern Time) | 6am ~ 10am | Fri 9pm~Sat 10am | Sat 9pm~Sun 10am |
| CST (Central Time) | 5am ~ 9am | Fri 8pm~Sat 9am | Sat 8pm ~Sun 9am |
| MST (Mountain Time) | 4am ~ 8am | Fri 7pm~Sat 8am | Sat 7pm~Sun 8am |
| PST (Pacific Time) | 3am ~ 7am | Fri 6pm~Sat 7am | Sat 6pm~Sun 7am |
| Hawaii | 1am ~ 5am | Fri 4pm~Sat 5am | Sat 4pm~Sun 5am |