Vayable (Status: Out of Business)
Get Paid To Create Fun Experiences As A Vayable Insider
UPDATE: Voyable has closed down business operations
Do you want to be happier? Go out and experience life with Vayable. No matter where you are in the world you can book a unique experience created by a Vayable Insider.
Vayable is an online tourism marketplace that connects travelers with local insiders who can enhance the travel and cultural experience of any destination. Vayable Insiders, or tour guides, take travelers off the beaten path and show them all of the cool things that the travel guidebooks don't know about. With Vayable, everyone's a local.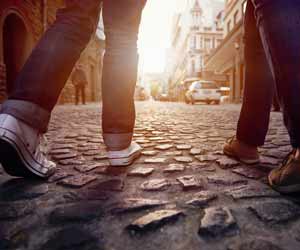 Vayable is revolutionizing the world of travel. This peer-to-peer business makes it possible to see the world through a local's perspective so that you can eat the best burgers, catch the best waves, or skip the longest lines. Are you ready to experience street art, food tours, wine tastings, underground history, sightseeing, adventure sports, museums, hidden treasures, or walking tours in a way that you've never even imagined?
With Vayable you can do just about anything – snorkeling in Mexico, wine tasting in Napa, riding a camel in Morocco, surfing in Hawaii, fishing on a private Pacific island, exploring the hidden markets of Shanghai, learning the history of London, or skiing with a ski bum in Colorado. Travelers can search Vayable experiences by type, price, and location. Then it's easy to book any adventure or experience on the Vayable iOS app or Vayable website.
Jamie Wong founded Vayable in May 2013. Based in San Francisco, California, Vayable now has a massive team of passionate, trustworthy, and personable local Insiders who will help you do just about anything that you want to do in the world. These Insiders are everyday people – artists, chefs, photographers, foodies, musicians, bankers, taxi drivers, teachers, bloggers, pilots, dancers, social workers, and designers. The one thing they all have in common is that they want to share their world with you.
Anyone can become a Vayable Insider. Create a free profile online. Then submit a video to verify your identity. Next brainstorm a unique cultural experience that travelers will love. Vayable requires each experience to fall under the categories of "art, fashion, design, eating, drinking, architecture, history, outdoors or any other cultural experience that tells a unique story about the destination." And finally, set your price.
Vayable screens all Insiders before they can lead a tour and the Insider who created the tour must lead all of their own tours – no outsourcing. You will need the knowledge, skills, or access to make these trips possible.
With Vayable, Insiders can focus on what they do best – share experiences that they are passionate about with friendly travelers. There's no need to worry about the business side of things, let Vayable handle that. Does this sound like the perfect job for you?
Vayable Insiders have the ability to work when and where they want to work. It's the ultimate flexible job. You can earn money from anywhere in the world, network with global travelers, build your online presence, and share your local knowledge with travelers from around the world.
Your next "office" could be Dublin, Athens, Bangkok, Berlin, Hawaii, or just about anywhere. As long as you can create cool, customized, local experiences that others will enjoy, you'll find success as a Vayable Insider. Vayable tours range from $8 to over $200. Realistically, Vayable Insiders earn about a $100 to $200 per week. The more you work the more you'll make.
Vayable aims to support locals, sustain cultures, and build communities by capitalizing on the tourism niche. They feel that experiences make us happier and that's what life is all about. This peer-to-peer business model enhances the travel experience for travelers, pays locals to share their knowledge and passion, and of course Vayable takes a cut of approximately 15% from every transaction to make it possible. Everyone wins with Vayable.
Vayable is changing the way that we experience the world. Are you ready to be a part of this revolution and earn your next paycheck doing what you love?
Quick Facts About Vayable
Status: Out of Business
Year Founded: 2013
Headquarters: San Francisco, California
Description: An online tourism marketplace that connects travelers with local Insiders who can enhance the travel and cultural experience
Insider Requirements: Screened by Vayable, Create and design experiences
Pay: $100-$200 per week