Industry Overview of Ski Coaching
Go to any ski area any weekend of the year and chances are good you'll find some race activity on the hill. This can range from a Federation Internationale de Ski (FIS)-sanctioned elite downhill to a snowboard race hosted by a local ski shop. In general, races are either FIS-sanctioned or are locally organized fun races.
Fun Racing
In the fun racing category, many ski schools have race departments, which are kept busy running NASTAR programs, corporate or city league racing, and many other sponsored events. Typically, a ski school will select several staff members to manage this department, which traditionally has been a great way to gain experience and move into coaching, perhaps initially for an organized junior race program.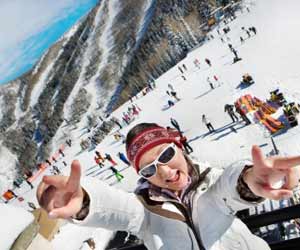 Racing Programs
Much larger in scope, however, are racing programs conducted under the umbrella of U.S. Skiing. U.S. Skiing is the national governing board recognized by the FIS and the U.S. Olympic Committee (USOC) as the sole sanctioning and governing federation for "Olympic-eligible" skiing in the United States. U.S. Skiing is responsible for selecting, funding, fielding, and training the U.S. Ski Teams competing in Nor-Am, Europa Cup, World Cup, and World Championship events. U.S. Skiing incorporates the membership arm, the U.S. Ski Association, the U.S. Ski Team, and the U.S. Ski Team Foundation, which guides fundraising, scholarship, and marketing activities. The USSA manages the technical aspects of ski competition, including scheduling and conduct of races, and provides education and certification of race officials. In addition to training and developing racers of all ages, local ski area race clubs also host USSA races.
Although American alpine teams traditionally have not been stacked as deep with talent as the Swiss or Austrian teams, for instance, exceptional American skiers emerge periodically, including the likes of Lindsey Vonn, Ted Ligety, Bode Miller, Picabo Street, Billy Kidd, Steve and Phil Mahre, Tamara McKinney, Bill Johnson, Dianne Roffe-Steinrotter, and Tommy Moe. Every one of these luminaries started off as an awkward kid with a runny nose, chasing gates at a local hill under the direction of a dedicated club coach who possessed a vision far grander than anything these future ski stars could have then imagined.
To provide opportunities for racers to develop and excel at all ages and abilities, USSA racing is organized by age group. Pre-teens compete in the USSA's Youth Ski League, which includes the Buddy Werner League, the Mitey Mites, and Hopefuls, among others. At this level, the emphasis is on having fun and learning the fundamentals of ski racing. Almost all races are held at nearby ski areas. By the time kids reach eleven or twelve the better skiers may be eligible to compete in state or divisional meets.
Working with these youngsters is a great way for new coaches to gain experience. Many coaches who are qualified to coach skilled older racers actually prefer working with YSL programs because there is so much emphasis on free skiing. The key element for teaching youngsters is to provide them with a solid skiing role model to follow and emulate. It's sad but true that coaches working with older, more elite athletes often spend much of their time standing on the side of the hill with a radio in one hand and a stopwatch or video camera in the other.
Racers over age twelve enter the junior classes, in which the system of point racing begins. Juniors thirteen and fourteen years old are placed in J3 class, fifteen- and sixteen-year-olds in J2, and seventeen- and eighteen-year-olds in J1. Each of these classes has its own series of qualifying races culminating in Junior Olympic Championships for both boys and girls. The juniors may also race against one another across age classes. Athletes acquire points based on their performances in these races. The better (lower) an athlete's points, the better starting positions she gets at later races. As a junior improves and her points drop, she may qualify to compete in more elite races, which usually have point cutoff schedules. One of the important administrative tasks for a coach is knowing which races to enter his athletes in to best improve their point profile.
Qualifying for regional FIS or Nor-Am races and the U.S. National Championships, from which an athlete can ultimately win a spot on the U.S. Ski Team, is based largely on the athlete's point profile. And there is not a coach in the country who does not dream of putting one or more of his "kids" on the Ski Team.